FASHION + WATCHES
JOKOWI PROMOTES A LOCAL BRAND AT MANDALIKA CIRCUIT
Do you want to know about the lucky brands which get free promotions from our lovely President?
17.11.2021
BY HANUM FAUZIA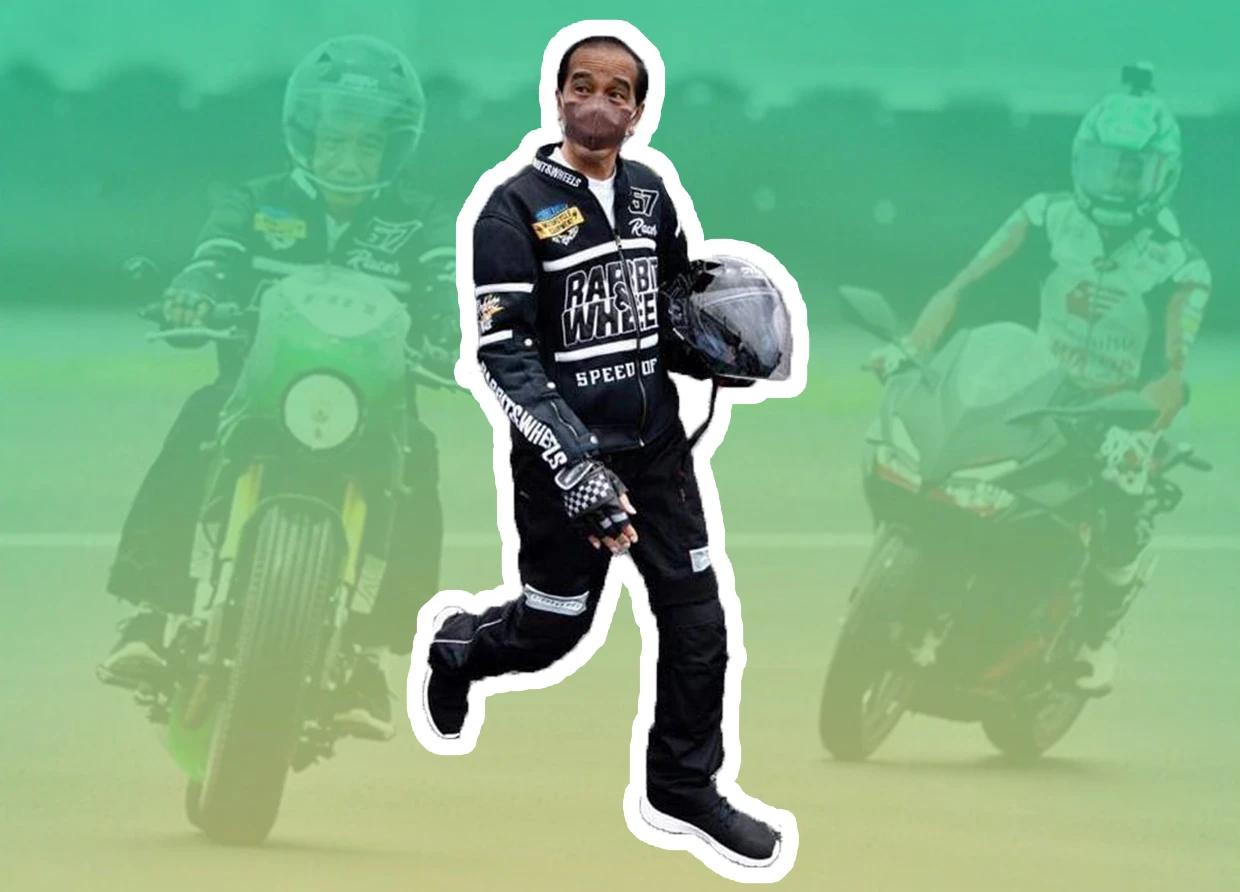 President of Jokowi officially announced Mandalika International Street Circuit last Friday ago. Before doing inauguration, Jokowi tried the circuit by riding his race motorcycle. His outfit looks fantastic, and through Jokowi's official Instagram, he proudly that what he wears is all local products. Jokowi says that all the attires are comfortable and safe to use. Do you want to know about the lucky brands which get free promotions from our lovely President?

The jacket is from Rabbit and Wheels, Bandung, West Java
Rabbit and Wheels are suddenly in a dither to receive overwhelmed orders after Jokowi wears their riding jacket. The owner of Rabbit and Wheels, Muhammad Zul Irvan, says he was pleased and said thanks to Jokowi that want to promote the local product. As an appreciation, Irvan will be happy to create a riding jacket special for Jokowi if the President requests a special request.
View this post on Instagram

"In the future, we would like to create the only riding jacket for Mr. Jokowi as Indonesia now has a circuit," Irvan says.

The Midnight Series was just released a week ago
At first, Jokowi choose a Champion series. Unfortunately, that series is already sold. The available item was The Midnight that just released a week ago. Then Irvan proposed making a custom special for Jokowi, but the President refused that as he wanted to wear a product that ordinary people use.
View this post on Instagram

Irvan says that his riding jacket has the specifications like import products. Manufactured from mesh fabric equipped with protectors for the shoulders, arms, and elbows as part of safety or security while riding. After Jokowi promotes his brand, all people immediately bought the jacket, including Sandiaga Uno who also ordered the jacket from his label.
Although the brand was established in 2017, Irvan started focusing on apparel riding from January 2021. In fact, the riding jacket has become the best seller. The average price start from 1 billion to 1,4 billion Rupiah. After the Midnight jacket became viral, Irvan changed the name become Mandalika Jokowi's jacket.
So, how much does it cost? "It's Rp 1.465.000," Irvan says. Every series that Rabbit and Wheels produces is limited edition. Irvan inadvertent creates become a limited edition. But with a shy feeling, he reveals that the fund becomes his big problem to make more.
"We can produce per series is 250 pieces because we have limited funding. Also, to create five jackets, they need around a week because we hire home garment enterprises, so, yeah, it still has limited resources," Irvan says.
The sneakers from Nah Project, Bandung, West Java
View this post on Instagram

Jokowi choose the sneakers from Nah Project to accompany his activity at the Mandalika circuit. Jokowi looks casual, simple, and appearing his young soul at his overall look. Rizky, one of the founders of Nah Project, tells the story until the President wears his sneakers. Nah Project is categorized as a newcomer in Indonesia's shoe industry. They were established in 2017 October ago. Firstly, sneakers are not the 'weapon' for this brand as they brand themselves as a label that sells formal shoes.
"From several months ago, we tried to experiment with the different look. The result shocked us as it turns out, they like colorful colors like blue or yellow. We research what kind of people buy our products, and we see that sneakers are booming. The fact, local product that sells sneakers from Indonesia is still rare. From then, we created sneakers," Rizky says.

The first sneaker is FlexiKnit
View this post on Instagram

Their first sneakers edition is created with a flexure shape. They use comfy material and are not too hot when used in Indonesia. FlexiKnit v 1.0 launched in April 2018. Unexpectedly, 200 pairs of shoes that were prepared sold out within 10 minutes! Nah Project is not immediately satisfied. They tried to release FlexiKnit v 2.0 that was worn by Jokowi just now.
"Some months before they launched FlexiKnit 2, we were involved in an exhibition in Yogyakarta. Kaesang came at that time," Rizky says.
Not long after that, the team accepts a call from one of Jokowi's aides. He was looking for sneakers from a local brand, and the Nah project is on the list of the President's recommendations.
"We are asked to give a product's catalog, and they chose three shoes to ship to Bogor's Palace. This is a special order for State Palace. We deliver it directly, even though we aren't launching yet. The order came in the evening, and we arrive there at 1.00 A.M.," Rizky says.
Firstly, Rizky didn't know that the sneakers will use by the President. "When we fill the guest book, there is a description, "Shoes for RI 1," which made us speechless. We are thrilled that Mr. Jokowi will use our shoes," Rizky continues his story.
#THE S MEDIA
#Media Milenial
#local products
#jokowi wears local product
#jokowi promotes local product
#rabbit and wheels
#nah project
#jaket jokowi