ART + CULTURE
INDONESIAN RUMAH LAMIN PAVILION WINS THE MOST UNIQUE BUILDING AWARD AT THE HONG KONG FLOWER SHOW 2023
Indonesia's Rumah Lamin Pavilion in East Kalimantan won the Unique Feature category's 2023 Merit Award at the Hong Kong Flower Show 2023, exhibiting traditional architecture and culture and supporting the "Wonderful Indonesia" campaign to increase tourism and creative economy.
26.03.2023
BY SUKSMAJATI KUMARA
Hong Kong, ​China – The Rumah Lamin Pavilion from East Kalimantan again won the 2023 Merit Award for the Unique Feature category at the Hong Kong Flower Show 2023. This is the umpteenth time that Indonesia has received this award when participating in this event.
"We continue to promote Indonesian tourism and culture in Hong Kong through participation in various prestigious events in Hong Kong," said Ricky Suhendar, Indonesian Consul General in Hong Kong. "The theme of Rumah Lamin was chosen in line with the plan to move the National Capital (IKN) to the Nusantara in the East Kalimantan region," added Consul General Ricky. By carrying out the concept of a smart city and green city, IKN will become a new face and driver of the economy in Indonesia's future.
The Minister of Tourism and Creative Economy, Sandiaga Uno also had the opportunity to visit the Rumah Lamin pavilion to promote the country's tourism through the "Wonderful Indonesia" campaign, which encompasses tourism destinations, arts, and culture to the revitalization of the MSME sector and local creative economies.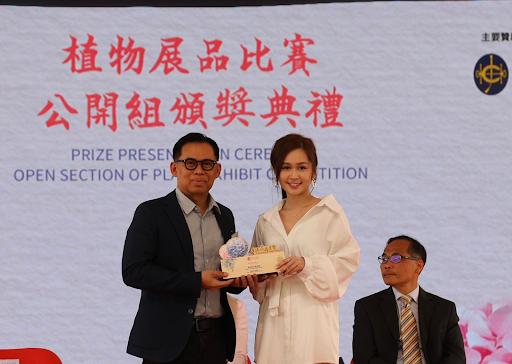 This replica of a wooden house, which in its native area can reach a length of 300 meters, is decorated with colors and accessories typical of the Dayak culture. Combined with a variety of hydrangea-themed floral hues and several other types of flowers, the exotic Rumah Lamin exudes elegance. The Rumah Lamin stood prominent with its striking yellowish gate decoration.
The success of traditional houses from various regions in Indonesia to win this award shows Hong Kong residents' interest in Indonesian culture. This is a strong capital in the promotion of Indonesian tourism in Hong Kong.
In addition to the lively Lamin House, eleven cultural arts groups whose members are Indonesian migrant workers, are scheduled to appear on the main stage to further introduce Indonesian culture to local people on the main stage, Sunday, March 19, 2023.​
#THE S MEDIA
#Media Milenial
#Rumah Lamin
#East
#Kalimantan
#Hong Kong Flower Show 2023
#Culture
#Indonesia
#Wonderful Indonesia