TRAVEL + LEISURE
FINDING PEACE IN SUSTAINABLE TRAVEL
Healing and renewal in nature.
11.08.2021
BY HANUM FAUZIA
As we enter a new era of travel, a growing number of individuals seek experiences for themselves and their loved ones that speak to healing and renewal in nature while protecting the planet and benefiting local people. Sustainable travel, in that sense, is not about giving something up to have a responsible holiday. Rather it is about gaining something more.
Just like Costas Christ, global sustainability expert and executive director of Beyond Green, says about sustainable leadership. "Sustainable travel is all about embracing local experiences that celebrate nature, culture, and community with gratitude and respect. At Beyond Green, we believe in travel that makes the world better through positive impact on the places and people we visit, creating connections between authentic hospitality, a wonderful vacation and care for the planet."
Here are some supporting environment programs that Hotel Brand Beyond Green offers.

Planting tree at Wilderness Safaris Bisate Lodge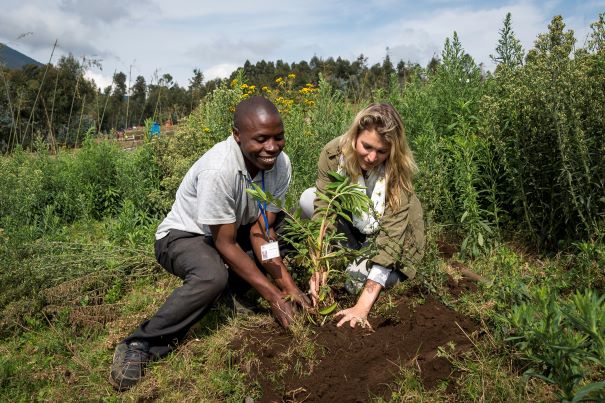 From The Lagoon School at The Brando in French Polynesia to a tree planting initiative in Rwanda at Wilderness Safaris Bisate Lodge, Beyond Green is committed to helping travelers discover and enjoy inspiring vacations based on positive impact for people and the planet. Below is a selection of experiences that Beyond Green offers to help create a more purposeful way to explore the world.
Travelers of all ages can give something back and gain something more at these Beyond Green properties across the globe.

Enroll in The Lagoon School at The Brando

Located in French Polynesia's breathtakingly beautiful private atoll of Tetiaroa, the resort offers children aged between 6 and 12 the opportunity to attend The Lagoon School during their stay. Hosted by a naturalist guide from the Tetiaroa Society, children can become nature ambassadors and explore the local area's biodiversity through the educational program.
Activities include coral exploration, plant discovery, and meeting the reef's inhabitants, including different species of fish and sea turtles, dolphins, and whales.
Reconnect with nature and plant trees at Wilderness Safaris Bisate Lodge

Adjacent to Rwanda's Volcanoes National Park, the eco-lodge combines bucket-list gorilla trekking with a pioneering vision of reforestation and community partnership to help regenerate endangered mountain gorilla habitat. This program has seen more than 40,000 native trees planted to date, positively impacting the surrounding area's unique fauna and flora.
The lodge's onsite agronomist gifts guests an indigenous sapling to plant on the property, and GPS coordinates for the tree are provided for ongoing progress reports on their contribution.

Experience a Junior Tracking Programme at Vermejo
Spanning 550,000 acres on the New Mexico-Colorado border, the Ted Turner Reserve (Raton, New Mexico, USA) serves as a private wilderness wonderland the size of a national park. Children can enjoy various activities, including studying animal tracks, learning about bugs, riding horses, geocaching, and crafting with nature.
Families can also volunteer on riverbank restoration projects and set out on guided eco-tours to learn more about Vermejo's sweeping preservation programs, including successful efforts to reintroduce American bison and Rio Grande cutthroat trout to the reserve.

Meet nomadic families and learn about a new dog breeding program at Three Camel Lodge

Located deep within Mongolia's vast Gobi Desert, this remote luxury lodge launched a conservation partnership with the not-for-profit Mongolian Bankhar Dog Project, which aims to help preserve this unique native breed to protect livestock and support snow leopard conservation by reducing human-wildlife conflict among Mongolian nomads.
Guests can learn more about the breeding and training initiative, meet the lodge's two resident dogs, and visit one of the nearby nomadic host families fostering the puppies to continue their training to be herders and protectors of local livestock.

"Bee" together with nature at Borgo Pignano

Set in the heart of a picturesque 750-acre organic estate in Tuscany, the estate is a regenerative agriculture model for self-sufficiency and natural living. Guest experiences include learning about beekeeping, including local traditional methods for extracting honey and beeswax, gathering wild herbs and flowers with the in-house herbalist, and learning how these natural ingredients are used within products and cuisine at the hotel.
#THE S MEDIA
#Media Milenial
#sustainable travels