SPORTS
EKO YULI BECOME A LEGEND, PRESENTING MEDALS FROM FOUR OLYMPICS
The weightlifter won a silver medal on the second day of the Tokyo Olympics.
26.07.2021
BY A. NUGROHO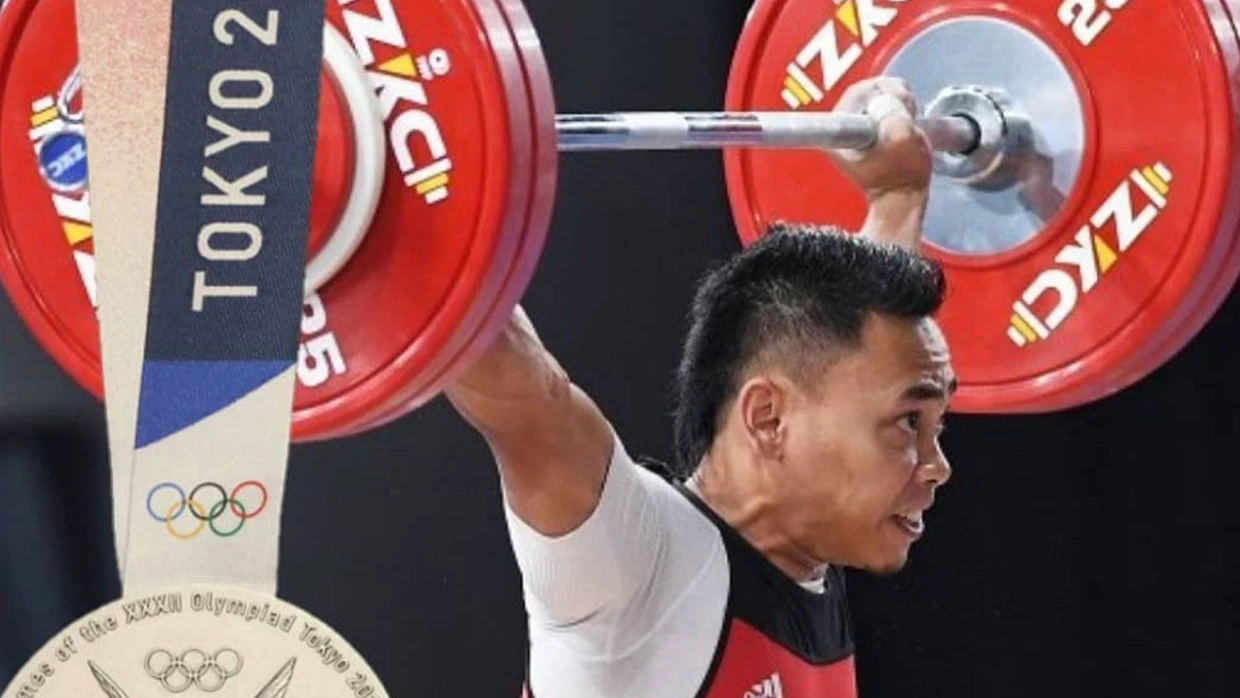 Eko Yuli Irawan became the Indonesian people's figure on the second day of the 2020 Tokyo Olympics. The weightlifter presented a second medal for Indonesia.
Eko managed to win a silver medal in the men's 61-kilogram class held at the Tokyo International Forum arena. The athlete from Lampung managed to collect 302 kilograms with a snatch of 137 kilograms and a clean and jerk of 165 kilograms.
Chinese athlete, Li Fabin, managed to break the record for a total lift of 312 kilograms with a snatch of 141 kilograms and a clean and jerk of 172 kilograms. I managed to bring home the gold medal.
"I think my preparation was not sufficient because of the restriction from the pandemic. My technique in the snatch still needs work. I apologize to the people of Indonesia. I can't give them the gold medal, which was my goal," said Eko after the match.
View this post on Instagram

The outcome of Eko's struggle was predictable. Eko's medals have made him a legend in the Indonesian sports world for being the first Indonesian athlete to win four different Olympic medals.
Previously, Eko had brought home bronze medals at the 2008 Beijing Olympics and 2012 London Olympics from different classes. At the 2016 Rio Olympics, he again made history that made weightlifting get the attention of the Indonesian people. Extraordinary.
Eko's journey to becoming a world athlete is not easy. Eko does not come from a family of athletes and has an underprivileged family background. His father was a pedicab driver, and his mother worked as a vegetable seller in the market.
Eko's childhood was spent helping his family's economy. Little Eko works to herd goats which makes him practice responsibility.
Eko became interested in weightlifting by accident. He saw a group of people practicing at a club in his area. His family rejected Eko's interest because he was experiencing economic difficulties, and only by herding goats could the family's economy be helped.
"If I lose a goat I have to pay for it. We are poor. We have to be careful doing our job," said Eko.
View this post on Instagram

But Eko has fallen in love with weightlifting, so he continues to train. His persistence made the family finally provide support.
The athlete, who was born on July 24, 1989, finally began to train hard at the Yon Haryono club until he finally started to feel confident to take part in the championship in 2006. He was only 17 years old and managed to enter an eighth place in the world weightlifting championship in the 56-kilogram class in the Dominican Republic.
Eko's achievements have continued in various world championships, including the 2007 World Championship in Thailand and the World Junior Championship in the Czech Republic. At the 2007 SEA Games, he won gold and continued at the 2013 Sea Games and 2018 Asian Games. His life was filled with international and national competitions that made him mature as an athlete with many achievements.
Eko's achievement beat Indonesian female weightlifting legend Raema Lisa Rumbawes who won three Olympic medals in the 2000 to 2008 period. Lisa got two silvers at the 2000 Sydney Olympics and Athens 2004 and one bronze in Beijing 2008.
#THE S MEDIA
#Media Milenial
#Eko Yuli Irawan
#weightlifting
#weightlifter
#silver medal
#tokyo olympics