TRAVEL + LEISURE
DISCOVERING STATEN ISLAND: THE BOROUGH'S BEST-KEPT SECRETS
New York City Tourism + Conventions invites visitors to Staten Island like a true New Yorker.
13.10.2023
BY SUKSMAJATI KUMARA
New York City Tourism + Conventions has unveiled an exciting invitation for travelers and locals to explore Staten Island like true New Yorkers. As part of their new Get Local NYC campaign, this initiative aims to showcase the beauty and charm of the often overlooked borough. Whether you're arriving by the iconic Staten Island Ferry from Battery Park in Manhattan or by car, this delightful getaway offers a diverse array of experiences for all types of travelers.
Staten Island's rich history is a treat for history buffs. At the Conference House, you can walk in the footsteps of Benjamin Franklin and John Adams as they sought peace with the British during the Revolutionary War in 1776. Explore the farm where Frederick Law Olmsted experimented with landscaping techniques before designing Central Park and visit Historic Richmond Town, a picturesque village dating back to the late 17th century.
Baseball enthusiasts can't miss the chance to watch the FerryHawks while enjoying breathtaking views of the Manhattan skyline across the majestic New York Harbor.
For shopaholics, Empire Outlets beckons with open arms. It's New York City's first and only outlet shopping mall, offering an extensive range of brands. And while you're there, don't forget to check out the inviting outdoor spaces and enjoy some delicious street food from the food trucks.
Staten Island also caters to families, with attractions like the Staten Island Zoo and the Children's Museum ensuring that your little ones are thoroughly entertained. The Staten Island Zoo even features Staten Island Chuck, the famous groundhog who predicts the arrival of spring every Groundhog Day.
Immerse yourself in culture at the Chinese Scholar's Garden at Snug Harbor, the National Lighthouse Museum, and the Jacques Marchais Museum of Tibetan Art. Pay your respects to Catholic activist Dorothy Day at her gravesite and explore the remnants of the beach community where she once lived.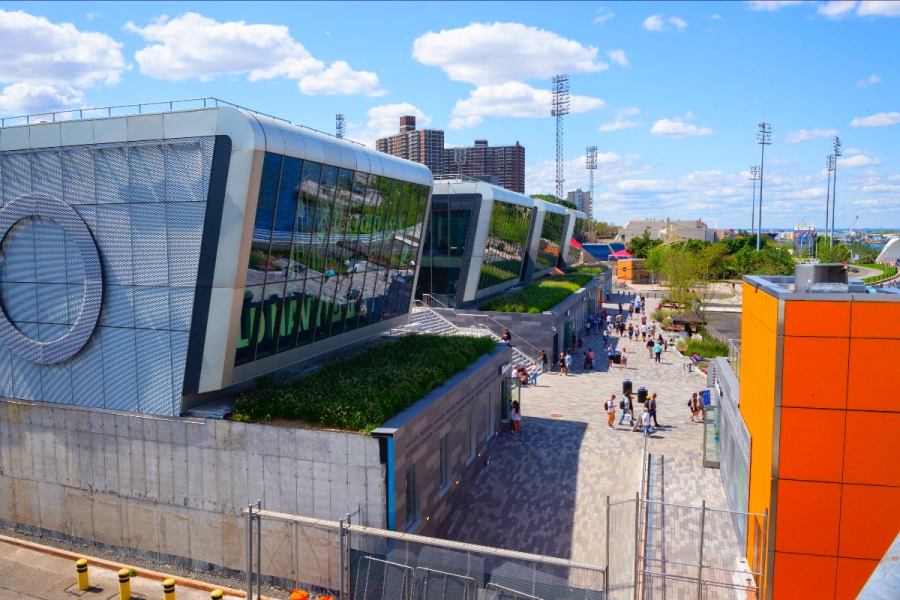 A Borough of Neighborhoods
Staten Island boasts more than 60 neighborhoods scattered across 60 square miles, making it a diverse and fascinating destination. It's more suburban than other parts of New York City, with a high percentage of homeowners and fewer tall buildings.
St. George: Gateway to Staten Island
Take the ferry to St. George for stunning views of the Manhattan skyline from the North Shore Waterfront Esplanade. Don't forget to visit Postcards, a touching memorial to the 275 Staten Islanders who lost their lives on September 11, 2001. The National Lighthouse Museum, the minor-league FerryHawks baseball team's stadium, and Flagship Brewing Co. are all within walking distance of the ferry terminal. Meanwhile, Empire Outlets offers a fantastic shopping experience, and the St. George Theatre hosts a variety of live shows.
West New Brighton, West Brighton, and Randall Manor: A Cultural Haven
Venture to the Snug Harbor Cultural Center & Botanical Garden, a hub of culture and nature. The Staten Island Zoo and nearby parks, golf courses, and cultural attractions ensure there's something for everyone.
Richmond Town: A Glimpse into History
Historic Richmond Town provides a living history experience, showcasing 350 years of Staten Island's history. The complex includes historic buildings, guided tours, and interactive exhibits, making it an educational and enjoyable outing.
Tottenville: A Journey Back in Time
Tottenville, at the island's southwestern tip, is a must-visit for history enthusiasts. The Conference House, one of the city's oldest buildings, was the site of a crucial peace conference in 1776. While you're there, indulge in the local culinary scene, including Killmeyer's Old Bavaria Inn and Angelina's Ristorante.
Getting There and Getting Around
Staten Island is accessible by two ferry services, one of which is free, offering convenient transportation options for visitors. You can also explore the island via buses or the Staten Island Railway. For those arriving by car, four bridges connect Staten Island to other parts of the city.
Whether you're a history buff, a shopaholic, or a family looking for a fun day out, Staten Island promises a delightful experience for all. So, why not heed the call of New York City Tourism + Conventions and explore this hidden gem in the heart of the Big Apple? Discover Staten Island like a true New Yorker, and let its unique charm leave an indelible mark on your travel memories.
For more information on exploring Staten Island, visit NYC Go - Staten Island.
#THE S MEDIA
#Media Milenial
#Travel
#Staten Island
#New York City
#Get Local NYC
#Hidden Gems
#Local Attractions
#Historical Sites
#Cultural Enclaves
#Shopping
#Family-Friendly
#Explore Like a Local
#NYC Getaway
#Staten Island Ferry
#Must-Visit Places
#Hidden Treasures
#Dining
#History
#Staten Island Tourism
#Unique Experiences
#Boroughs of New York