ENTREPRENEURS
DANJYO HIYOJI'S YOUTHFUL EXPLOSION
2021 was a busy year for the vibrant, quirky wear.
03.01.2022
BY WILHEMINA BOWEN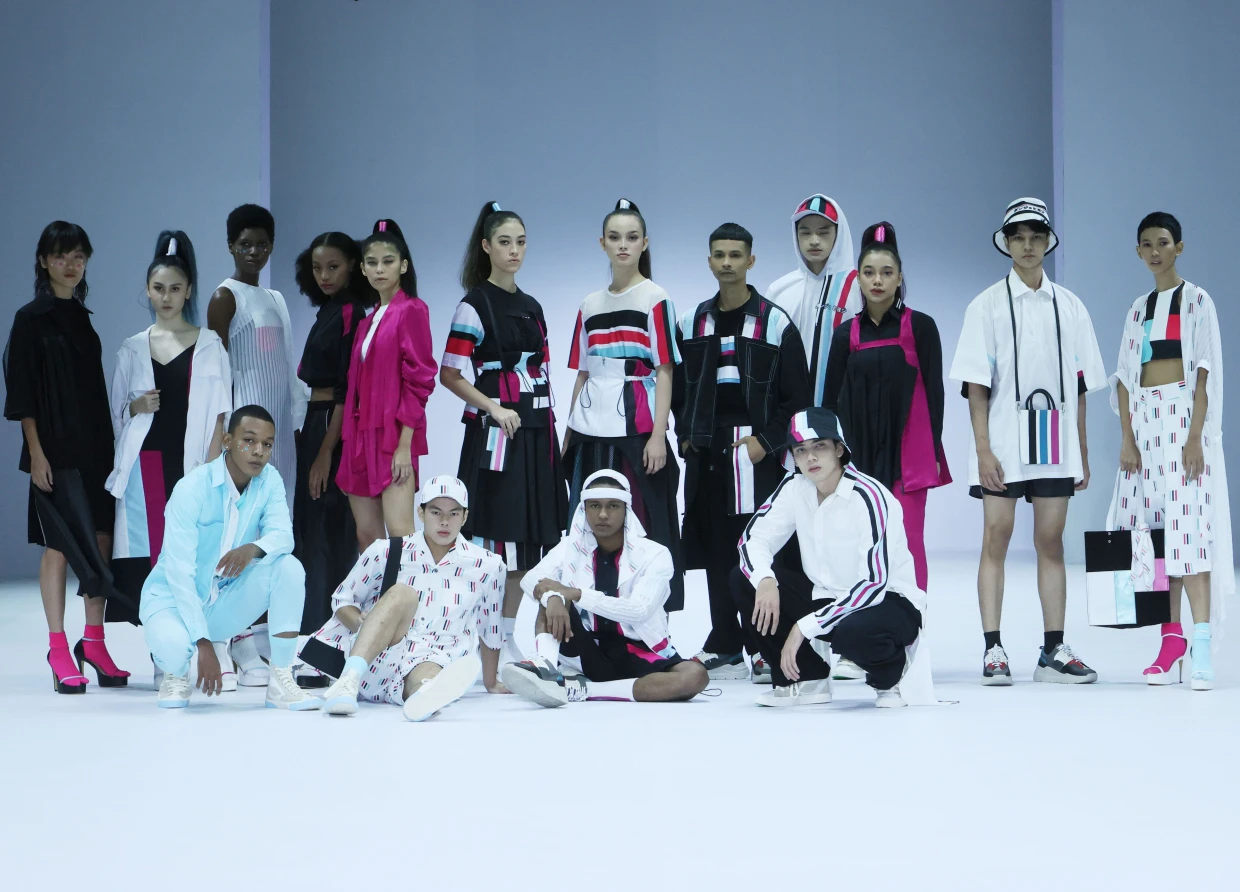 Danjyo Hiyoji was founded by Dana Maulana and Liza Masitha in 2009 under PT Danjyo Cipta Rega Pratama. The edgy fashion label provides clothing for both men and women that are comfortable and easy to wear yet still unique.
Named the winner of The Most Innovative Local Brand Cleo Indonesia Fashion Award 2009, Label of the Year 2010 ELLE Indonesia Magazine, and Instyle Indonesia Magazine Award 2012, Danjyo Hiyoji continues to explore individuality and modernity to create creations that can inspire confidence for the wearer.
The brand has been busy this year, starting from its August collaboration with Vivo for Vivo V21 Diamond Flare that resulted in a funky sling bag with the matching metallic vibe with the titular smartphone, to its recent collaboration with TikTok for Jakarta Fashion Week 2022.
View this post on Instagram
"In this era of social media, negative comments are easy to find. This collection says we must remain confident even though we are bullied," said Dana, explaining the bullying theme behind the collection.
This theme is translated into a ready-to-wear collection inspired by TikTok's fun colors, such as black, white, splash blue, and Razzmatazz fuchsia. Danjyo Hiyoji's signature streetwear style exuded even more energy with the colors paired with modern stripes and asymmetrical patchwork.
After rocking the runway of Jakarta Fashion Week 2022, the local brand launched another collection as part of the #Celebrationine program, one of the Krismasversary events held at Kuningan City Mall. Collaborating with artist Bunga Yuridespita, Danjyo Hiyoji presented a sporty casual collection of 18 clothing looks for men and women.
The vibrant collection strutted against Jakarta's buildings and skyscrapers on December 12, aiming to bring uplifting, bright colors spread across cotton, nylon, and jersey fabrics. The refreshing purple, peach, mustard, green, blue, and orange colors are casually translated over loose, oversized blazers and various other outfits.
View this post on Instagram
The history
Dana was the first to initiate the label with his passion for fashion and his strong determination to break the negative stigma of men who enter the industry. His first target was his own parents.
"At that time, my parents, in particular, required me to major in civil engineering with the hope of becoming a civil servant like him," said Dana, reminiscing his university days. As he strayed away from his passion, his grades kept declining.
"At that time, I just thought of doing something that could make me financially independent so I'll be able to decide my major for myself at my own expense without burdening my parents," he said.
Dana has long been invested in fashion, buying materials from the Tanah Abang market and sending them to tailors to be processed since his youth. "It's little things like this that initially led me to create a clothing brand with the intention of being independent later."
In 2001, he launched the Danjyo label, which helped him become financially independent, and he switched majors from civil engineering to industrial engineering. He decided to keep pursuing the title of Bachelor of Engineering because "I can't seem to disappoint my parents because I think the success or failure of a child is also due to the prayers of parents."
After graduating from Industrial Engineering at Pelita Harapan University, Dana searched for a partner for his budding business. "I remember my best friend from middle school whom I thought had a really good taste for fashion. Liza Masitha has been my business partner until now. Liza also majored in college that was not related to fashion," he said.
The label, Danjyo, which the designer said means "unisex" in Japanese, got even better after Liza officially joined in. After receiving the title of The Most Innovative Local Brand at the Cleo Magazine Fashion Award design competition at Jakarta Fashion Week, the duo added Hiyoji to the label. The word stands for hip, young and crazy — and the brand starts embracing its Harajuku-style DNA even more.
#THE S MEDIA
#Media Milenial
#Danjyo Hiyoji
#Indonesian fashion
#local brand
#Dana Maulana
#Liza Masitha