TRAVEL + LEISURE
CHIVA-SOM HUA HIN OFFERS TRANQUIL RETREATS FOR HOLISTIC WELLNESS THIS FESTIVE SEASON
Globally Acclaimed Resort Introduces Spa Wellbeing and Natural Renewal Retreats for Mind, Body, and Spirit Transformation
17.11.2023
BY PEACHY BECK
In the serene coastal haven of Chiva-Som Hua Hin, Thailand, guests are invited to bid farewell to the year on a restful note with the pioneering and transformative wellness destination's Spa Wellbeing and Natural Renewal retreats. Overlooking the Gulf of Thailand, Chiva-Som Hua Hin provides a tranquil beachfront setting for those seeking to restore mental and emotional balance after a hectic year.
The Spa Wellbeing retreat, a carefully crafted blend of indulgence and therapy, aims to rejuvenate the mind, body, and spirit. From traditional abhyanga to Chiva-Som's signature body cocoon, guests can enjoy treatments that not only pamper but also release deep-seated tension stored in both body and mind.
For a more profound renewal, the Natural Renewal retreat is designed to address the sources of mental and emotional imbalance. Collaborating with the resort's wellness experts, guests will learn to let go of stress, improve their mindset, and make positive lifestyle changes, offering a holistic approach to wellness that encompasses healthy habits and restorative treatments.
During the festive season, guests can partake in exclusive workshops with world-renowned wellness practitioners. On December 31st, traditional Thai medicine practitioner Chananchida Banyeam will demonstrate how to promote Inner Harmony with the Tibetan Singing Bowl. The New Year kicks off with a Loving-Kindness Meditation session on January 1st, led by metta healer David Stojanovic, offering a mindful start to the year.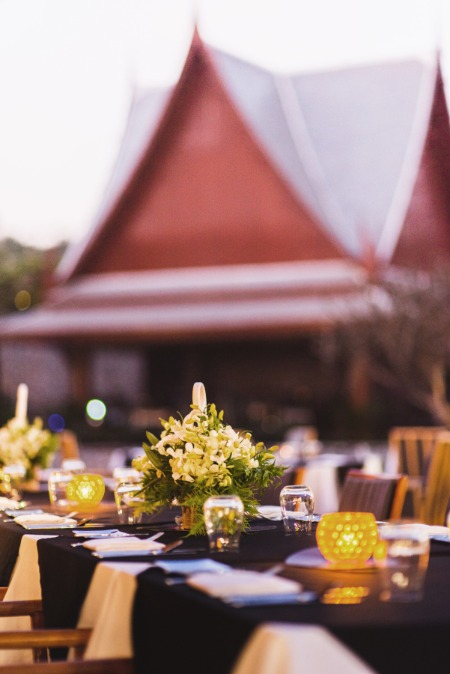 Chiva-Som's festive celebrations are characterized by simplicity and joy, with a focus on balance rather than overindulgence. Christmas Eve features healthy sangrias, a Christmas buffet, and carols. On New Year's Eve, a 1960s-themed Peace & Love celebration takes center stage, with a dinner and beach countdown, accompanied by lively entertainment throughout the night.
"A Chiva-Som retreat is much more than just a beach getaway," says Chiva-Som Wellness Director Chanyapak Suwankantha. "Our all-encompassing approach to wellness targets mind, body, and spirit all at once, offering profound relief from the stresses of everyday life and the opportunity to transform from within and restore balance."
Chiva-Som's extensive range of retreats includes accommodation, three wellness meals per night of stay, consultations, daily treatments, complimentary group activities, and full use of world-class wellness facilities. Festive season rates start from THB 42,000++ per person per night.
To embark on your wellness journey with Chiva-Som, contact +66 32 536 536, email reservations@chivasom.com, or WhatsApp +66 82 796 7689.
About Chiva-Som
Since 1995, the award-winning Chiva-Som has pioneered transformative wellness practices, earning global acclaim. Its flagship resort in Hua Hin, Thailand, and the latest addition, Zulal Wellness Resort by Chiva-Som in Khasooma, Qatar, continue the commitment to innovative, holistic wellness. Chiva-Som's unique approach combines indigenous traditions and evidence-based wellness for highly personalized journeys focused on complete lifestyle transformation.
Recent Awards:
'Wellness & Spa Retreat' - Thailand Tourism Gold Awards 2023
'Best Destination Spa in the World' – Condé Nast Traveler's Readers' Choice Awards 2022
'Fighting Fit' – Tatler Spa Awards 2022
'Thailand's Best Wellness Retreat' – World Spa Awards 2022
'Top Destination Spa Resort in the World' – Condé Nast Traveler's Readers' Choice Awards 2021
'Gold Award' – Thailand Tourism Awards 2021
'Asia's Best Wellness Retreat' – World Spa Awards 2021
'Thailand's Best Wellness Retreat' – World Spa Awards 2021
'Best Destination Spa' – Condé Nast Traveller (UK) Spa Awards 2020
'Wellness Program of the Year' – Destination Deluxe Awards 2020
'International Hotels: Best Wellness Retreat' – Travel + Leisure India's Best Awards 2020
One of the '50 Sustainability & Climate Leaders' – Bloomberg 2020
#THE S MEDIA
#Media Milenial
#Chiva-Som Hua Hin
#Wellness Retreat
#Spa Wellbeing
#Natural Renewal
#Holistic Wellness
#Tranquil Beachfront
#Gulf of Thailand
#Mind-Body-Spirit Transformation
#Festive Season Retreats
#Exclusive Workshops
#World-Class Wellness
#Inner Harmony
#Loving-Kindness Meditation
#Tibetan Singing Bowl
#1960s-Themed Celebration
#Balance and Renewal
#Chiva-Som Wellness Director
#Healthy Lifestyle
#Personalized Wellness Journeys
#Chiva-Som Accommodation
#Festive Season Rates
#Chiva-Som Contact
#Chiva-Som Awards
#Global Acclaim
#Lifestyle Transformation
#Evidence-Based Wellness
#Indigenous Traditions
#Complete Wellness Experience
#Mindful Start to the Year
#Award-Winning Retreats
#Sustainable Wellness Practices
#Destination Spa Excellence
#Global Sustainability Initiatives
#Mind-Body Balance
#Luxury Wellness Resort