TRAVEL + LEISURE
CHANGI AIRPORT'S TERMINAL 2 TRANSFORMATION: A SYMPHONY OF NATURE, INNOVATION, AND CULINARY EXCELLENCE
Discover the immersive experience of Changi Airport's T2's natural ambiance inspired by lush surroundings and digital wonders.
14.11.2023
BY BRILIAN AKBAR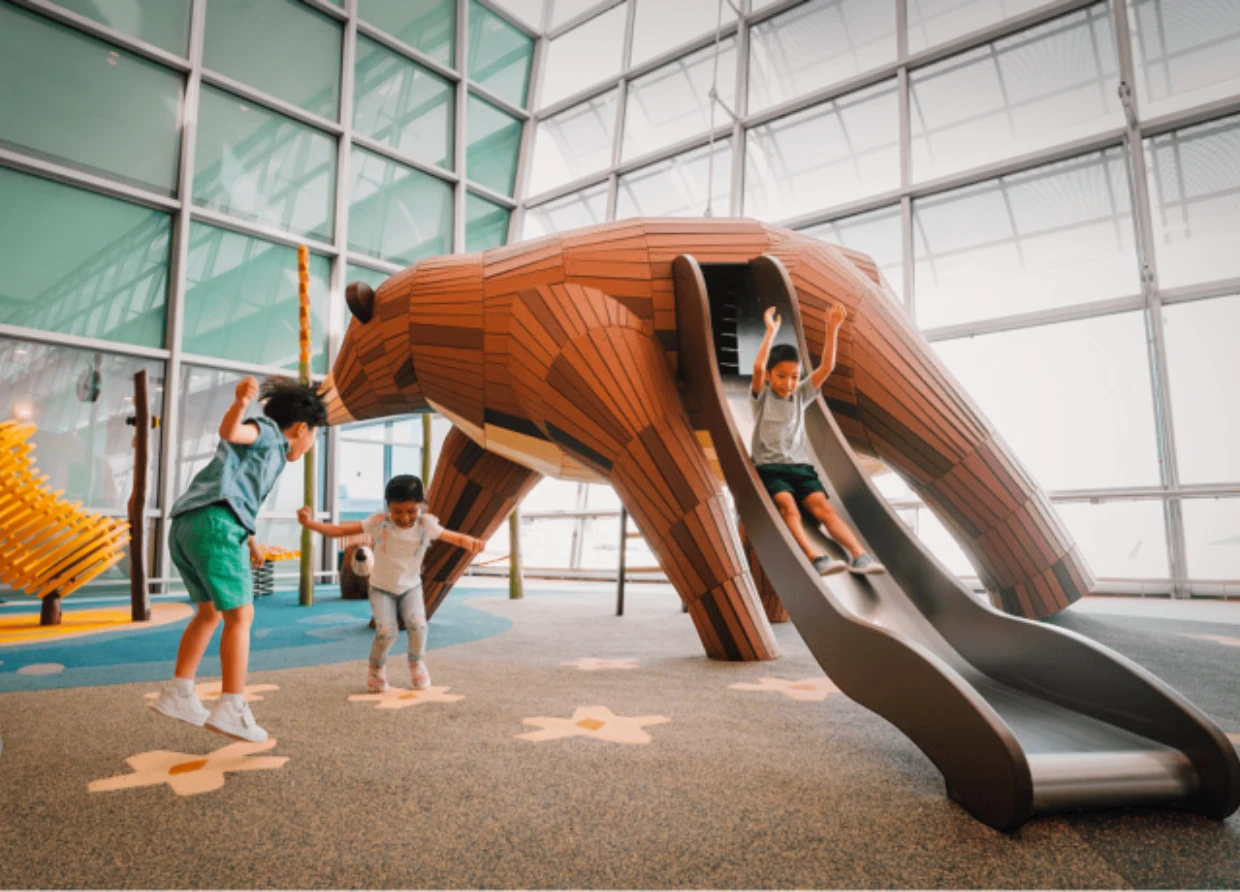 In a surprising move, Changi Airport has reopened Terminal 2 (T2) ahead of schedule, as part of its efforts to restore operations across all four terminals and to warmly receive Indonesian tourists choosing Singapore as their year-end holiday destination. T2 introduces a new and state-of-the-art experience, integrating a modern terminal ambiance inspired by nature with immersive digital experiences and innovative technology, highlighted by The Wonderfall and Dreamscape.
The T2 expansion project has increased Changi Airport's total capacity by 5 million passengers per annum (mppa), bringing it to 90 mppa. The timely completion of T2 is crucial to meet the capacity demands, anticipating a full recovery of pre-COVID tourists by 2024. As of September 2023, the number of passengers traveling between Indonesia and Singapore has already rebounded to 84%, compared to 40% in 2022. In October 2023, Changi has established connections with 10 cities in Indonesia through 8 airlines, including Batik Air, Citilink, Garuda Indonesia, Indonesia AirAsia, Jetstar Asia Airways, KLM Royal Dutch Airlines, Scoot, and Singapore Airlines, operating 424 weekly flights between Singapore and Indonesia. Jakarta, serving as the second busiest international route in Southeast Asia and the eighth worldwide, boasts 8 airlines with 189 weekly flights between Singapore and Jakarta.
Tan Lye Teck, Programme Director of the Terminal 2 Expansion Project at Changi Airport Group, stated, "Changi Airport consistently provides the best innovation and services, leading in the trends of retail and culinary innovation. With the expansion of T2, we aim to enhance the traveler experience by integrating a modern terminal ambiance inspired by nature, immersive digital experiences, innovative technology, and transformative retail and culinary concepts, creating a truly special place."
T2 adopts a philosophy of natural grandeur, from the naturally designed ceilings to wall patterns, carpet designs, and carefully arranged horticulture displays, seamlessly blending natural elements throughout T2. The natural green hues adorned with diverse plant life create a serene and refreshing atmosphere, instilling calmness and relaxation for travelers and visitors.
The T2 expansion project has added 21,000 square meters of space for additional infrastructure, new systems, and more shopping options. In the T2 departure hall, The Wonderfall, a 14-meter digital canvas located in the midst of a vertical garden, showcases the beauty of nature with a majestic digital waterfall flowing over megalithic stones. In the transit area, a new garden, Dreamscape, captivates with a charming array of plants against a carefully curated backdrop, brought to life with the splendor of the 'digital sky' that changes color at specific times.
The transit area also offers a TV Lounge where travelers can enjoy the latest sports events and TV programs on a large LED screen. For children, the 2 Bears Hideout provides an engaging and adventurous play experience.
The Gourmet Garden, a unique dining area with stunning apron views and beautiful foliage hanging from the ceilings, invites travelers to explore the unique flavors of Singapore. This experience is represented by the presence of Satay Club by Harry's, renowned for its signature satay, offering local fusion cocktails like Chendol Colada, TSK "Kopi" Ice, and the famous Harry's Singapore Sling. Additionally, Chicken Rice Wee Nam Kee allows visitors to savor the iconic Singaporean chicken rice. Meanwhile, at the bakery and coffee shop, The Hainan Story, freshly baked pastries and Kopi Gu You (butter coffee) will satisfy cravings for Singaporean culinary heritage. Other local favorites, including CRAVE Nasi Lemak, offering the popular coconut rice dish with various side dishes, and Old Chang Kee, known for curry puffs and other snacks, are also available.
The revitalized public spaces in T2 also house several new and intriguing local and international brands. Notable among them is Indonesia's Kopi Kenangan, known not only for its high-quality and affordable coffee but also for its diverse beverage options that bridge Asia with the world. A must-try is the Kenangan Latte, a delightful blend of espresso and palm sugar. For dim sum enthusiasts, the renowned local brand Swee Choon will remain a fixture, introducing Hong Kong milk tea gelato in an exclusive collaboration with the local ice cream cafe Creamier at Changi Airport.
Changi Airport has enhanced the traveler experience in T2 with a series of innovations, including the Fast and Seamless Travel (FAST) for common use, improved automated check-in kiosks, and baggage drop machines. With the Automated Clearance Initiative, eligible passengers with biometric passports can utilize automated immigration lanes upon arrival at Changi Airport. T2, notably, is the first terminal at Changi to introduce automated Special Assistance Lanes for immigration both in arrivals and departures, catering to passengers with disabilities and children. Furthermore, the early baggage storage system is fully automated, with the capability to store up to 2,400 bags simultaneously.
Indonesian travelers can learn more about T2 and all travel-related information by visiting our website at id.changiairport.com or by following us on Facebook and Instagram. Travelers can also find inspiration and travel tips on the Travel Journal blog.

About Changi Airport Group
Changi Airport Group (Singapore) Pte Ltd (CAG) (www.changiairportgroup.com) was established on June 16, 2009, and corporatized Singapore Changi Airport (IATA: SIN, ICAO: WSSS) on July 1, 2009. As the company overseeing Changi Airport, CAG focuses on airport operations and management, air hub development, commercial activities, and airport emergency services. CAG also oversees Seletar Airport (IATA: XSP, ICAO: WSSL) and, through its subsidiary Changi Airports International, invests in and manages foreign airports.
As one of the most connected international flight hubs in Asia, Changi Airport links Singapore to approximately 150 cities worldwide, with over 100 airlines operating more than 6,400 weekly flights. Jewel Changi Airport, a multidimensional lifestyle destination, opened in April 2019, expanding shopping and dining options at Changi Airport with over 600 F&B and retail outlets.
As the most awarded airport in the world, Changi has won over 660 awards for consistent and outstanding airport staff service, traveler experience, and safety standards.
#THE S MEDIA
#Media Milenial
#Changi Airport
#Terminal 2
#Airport Expansion
#Nature-Inspired Design
#Digital Innovation
#Travel Experience
#Indonesian Tourism
#Year-End Holidays
#Changi Airport Group
#Southeast Asia Travel
#Airport Technology
#Culinary Excellence
#Singaporean Cuisine
#Fast and Seamless Travel
#Automated Check-in
#Baggage Drop
#Biometric Passports
#Special Assistance Lanes
#Travel Inspiration
#Travel Tips
#Lifestyle Destination
#Multidimensional Experience
#Award-Winning Airport
#Changi Airport News