ART + CULTURE
CELEBRATING INDONESIAN HERITAGE AT THE 'I LOVE WASTRA BAZAAR' EVENT
'I LOVE WASTRA Bazaar' was a celebration of Indonesia's cultural wealth, where the past and present harmoniously coexisted.
30.10.2023
BY AYU MARTHA
In a vibrant celebration of Indonesia's rich cultural heritage, the 'I LOVE WASTRA Bazaar' event took center stage from October 26th to October 28th, 2023, at the Multifunction Hall on Level 2 of Plaza Indonesia. Organized in collaboration between World Fashionpreneur Connect and Plaza Indonesia, this event showcased the beauty and artistry of Indonesian textiles, bringing together a myriad of experiences, from workshops to fashion shows and performances.
The event successfully presented a fascinating array of Indonesian textiles and traditional craftsmanship. With 30 booths and 32 tenants participating, attendees were treated to a delightful exploration of Wastra Indonesia. The event's focus was on more than just showcasing fabrics; it was an immersive experience that encapsulated the spirit and soul of Indonesian culture.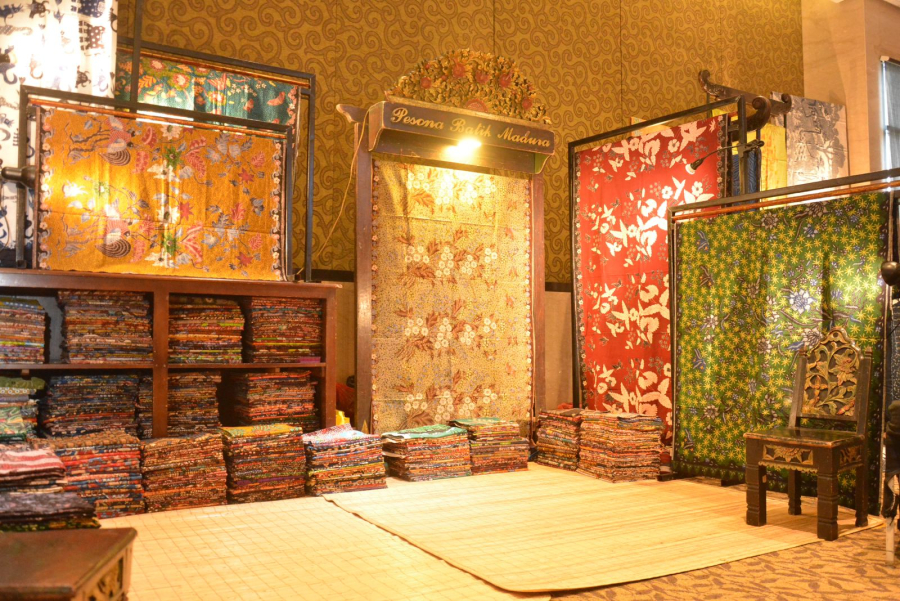 A highlight of the 'I LOVE WASTRA Bazaar' was the opportunity to participate in various workshops. One such workshop, titled "Crafting Accessories out of fabric and threads of Tenun," highlighted the art of zero-waste upcycling, a sustainable practice that transforms fabric remnants into beautiful accessories. This creative endeavor demonstrated a commitment to environmental consciousness.
The event also featured informative talk shows and styling sessions, where TEKULUK, the traditional Sumatran 'Selendang' head cover, was expertly styled by the skilled hands of Cahayo Limpapeh. This fusion of tradition and contemporary fashion showcased the versatility of Indonesian textiles.
Music enthusiasts were treated to soul-stirring performances by a Cancer Survivor Singer, demonstrating the strength and resilience of the human spirit. Additionally, 25 Angklung performers, led by Ratnadewi1703, wove musical magic through the harmonious sounds of this traditional Indonesian instrument.
Fashion aficionados were not left disappointed either. Batik Riana Kesuma hosted an engaging talk show and fashion show, offering insights into the world of Batik, Indonesia's iconic textile art. Attendees had the opportunity to witness the fusion of tradition and modernity in this captivating display.
The event also promoted sustainable practices, with DIY zero-waste upcycling accessories and Batik paint on kites led by DY Studio. The Zero-Waste Batik Brooch Making workshop by Galeri Sabata encouraged participants to embrace eco-friendly fashion choices.
A unique installation by This.Play showcased the innovative use of Wastra in modern design. This eye-catching exhibit symbolized the evolving role of traditional textiles in contemporary art and design.
Lastly, 'I LOVE WASTRA Bazaar' offered a glimpse into the world of Batik with the "Batik" Adi Wastra Nusantara collection, featuring the works of Hudy Suharnoko and his Garis Nusantara. This collection celebrated the intricate craftsmanship and cultural significance of Batik.
In essence, the 'I LOVE WASTRA Bazaar' was a celebration of Indonesia's cultural wealth, where the past and present harmoniously coexisted. Attendees had the chance to immerse themselves in the world of Indonesian textiles, explore sustainable practices, and witness the transformative power of tradition in contemporary fashion and design. It was an event that truly celebrated Indonesia's heritage, showcasing the love for Wastra that transcends time and generations.
#THE S MEDIA
#Media Milenial
#ILOVEWASTRA
#IndonesianHeritage
#WastraIndonesia
#SustainableFashion
#CulturalCelebration