TRAVEL + LEISURE
BRINGING FAMILY FESTIVE JOY TO KOH LANTA'S PURE SHORES
Escape from busy urban lives and reconnect with each other in paradise.
27.12.2021
BY JORDI HILDIANTO
Pimalai Resort & Spa, the five-star sanctuary in Koh Lanta, is giving you and your family the chance to enjoy a fun-filled festive season in paradise this month, with a series of eco-friendly activities and enticing excursions that will allow all ages to relax, reconnect with each other, and rediscover the wonders of nature.

Pimalai knows that Christmas and New Year are the best times to be more engaged with your loved ones. After facing 12 months that sometimes feel hard, we think spending a holiday that is away from crowds will be the right option to refresh your mind. Why don't you think about replacing Christmas trees with coconut palms where you can see the twinkling fairy lights and the tropical sun shimmering on the sea?

Nested in a hundred hectares of green tropical jungle at the island of Koh Lanta, flooding right all the way down to white sand and a cyan sea, Pimalai offers visitor to private and personal experience with a set of beachside and hillside pool villas, presenting two or three bedrooms and as much as 650 square metres of residence where guests can discover their ultimate retreat.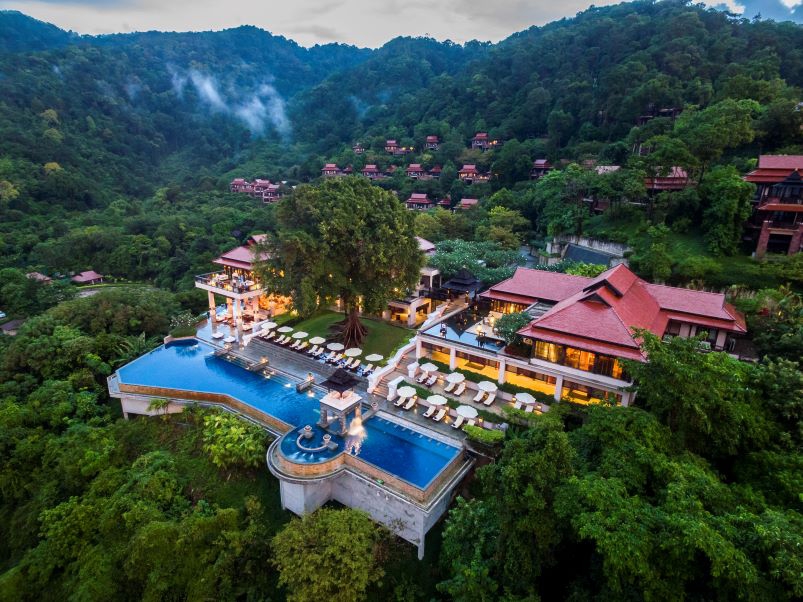 In a superb secluded setting, surrounded through unspoiled forests and limitless of ocean view, you and your relatives can live and enjoying the moment in glad privacy, with lots of area on Pimalai's 900-meter non-public beach, complimentary non-motorised water sports activities together with kayaking windsurfing and paddle-boarding, motorcycling across the island, tranquil yoga sessions, Thai boxing, playing tennis, and more.

Throughout December and January, the resort's colorful and friendly Kid's Club will feature a full progra, of exciting activities for kids, including kite flying and beach soccer, as well as origami, sand sculpting, and more. From 10 am to 17 pm, these entertaining and educational workshops will be held.

For a truly immersive experience that the whole family will treasure, Pimalai offers eco-sensitive excursions to the idyllic islets of Mu Ko Lanta National Park that ensure plenty of time for swimming, snorkelling and chilling out on empty beaches.

The "Koh Haa Sunset" tour transports visitors to a gorgeous group of limestone islets where turquoise lagoons and a technicolor coral reef attract an amazing array of marine life, including black-tipped reef sharks, while the "Fabulous Koh Rok" adventure takes travellers across the sparkling sea to a pair of islands lined with powder-soft sands and lapped by warm, shallow seas.

Alternatively, curious explorers can take a stroll through Koh Lanta's charming Old Town, stopping to savour fresh seafood at a waterfront restaurant, or embark on a locally-run "Mangrove Discovery Tour", which lets guests explore the island's lush coastal forests and view beautiful birdlife and mischievous macaques.

In this special event in December, Pimalai invites guests to experience the magic of the holiday season. On Christmas Eve which is December 24 2021, diners are invited to Rak Talay Beach Bar & Restaurant for a spectacular buffet of Thai and international cuisine overlooking the ocean. This enchanting evening will bring festive cheer to people of all ages, with live music, a dramatic fire show, and even a visit from Santa. The Christmas Eve Dinner costs approximately Rp 1.273.730 per adult and Rp 636.440 per child (5-12 years).

Then, on December 31, 2021, Pimalai will welcome the New Year with a glittering evening at Rak Talay Beach Bar & Restaurant. Local seafood, vibrant Thai delicacies, premium barbecued meats, fresh salads, and divine desserts will be featured in a series of live stations, accompanied by live music from the Hat Yai Band, a classical Thai dance performance, and a fire show. Then, as the clock approaches midnight, a live DJ will kick off the party, and fireworks will illuminate the night sky.

This unforgettable event costs approximately Rp 1.910.171 per adult, which includes unlimited house wine, local beer, and soft drinks, and Rp 954.873 per child (5-12 years).

"The festive season is the perfect time for friends and relatives to reunite. After a long year however, many families may wish to take a well-deserved break from their congested urban lives and chill out among nature," said Charintip Tiyaphorn, Owner Representative of Pimalai Resort & Spa.

"Pimalai has long been a favoured multi-generational destination for A-listers, executives and anyone seeking a stress-free escape, away from the crowds. This makes it the ideal option for all visitors who want to enjoy barefoot luxury with their nearest and dearest, far from the outside world," she continued. "We look forward to letting everyone relax and reconnect in paradise at Pimalai – whether you're seeking a fun festive break in December or a stress-free family vacation in January."
#THE S MEDIA
#Media Milenial
#koh lanta
#thailand
LATEST NEWS
We have a vast selection of rolex replica such as the Daytona, Milgauss, Submariner, Explorer, Gmt Master II in http://www.localdlish.com
We have a vast selection of rolex replica such as the Daytona, Milgauss, Submariner, Explorer, Gmt Master II in http://www.localdlish.com
We have a vast selection of rolex replica such as the Daytona, Milgauss, Submariner, Explorer, Gmt Master II in http://www.localdlish.com
We have a vast selection of rolex replica such as the Daytona, Milgauss, Submariner, Explorer, Gmt Master II in http://www.localdlish.com
We have a vast selection of rolex replica such as the Daytona, Milgauss, Submariner, Explorer, Gmt Master II in http://www.localdlish.com
We have a vast selection of rolex replica such as the Daytona, Milgauss, Submariner, Explorer, Gmt Master II in http://www.localdlish.com
We have a vast selection of rolex replica such as the Daytona, Milgauss, Submariner, Explorer, Gmt Master II in http://www.localdlish.com
We have a vast selection of rolex replica such as the Daytona, Milgauss, Submariner, Explorer, Gmt Master II in http://www.localdlish.com
We have a vast selection of rolex replica such as the Daytona, Milgauss, Submariner, Explorer, Gmt Master II in http://www.localdlish.com
We have a vast selection of rolex replica such as the Daytona, Milgauss, Submariner, Explorer, Gmt Master II in http://www.localdlish.com
We have a vast selection of rolex replica such as the Daytona, Milgauss, Submariner, Explorer, Gmt Master II in http://www.localdlish.com
We have a vast selection of rolex replica such as the Daytona, Milgauss, Submariner, Explorer, Gmt Master II in http://www.localdlish.com
We have a vast selection of rolex replica such as the Daytona, Milgauss, Submariner, Explorer, Gmt Master II in http://www.localdlish.com
We have a vast selection of rolex replica such as the Daytona, Milgauss, Submariner, Explorer, Gmt Master II in http://www.localdlish.com
We have a vast selection of rolex replica such as the Daytona, Milgauss, Submariner, Explorer, Gmt Master II in http://www.localdlish.com
We have a vast selection of rolex replica such as the Daytona, Milgauss, Submariner, Explorer, Gmt Master II in http://www.localdlish.com
We have a vast selection of rolex replica such as the Daytona, Milgauss, Submariner, Explorer, Gmt Master II in http://www.localdlish.com
We have a vast selection of rolex replica such as the Daytona, Milgauss, Submariner, Explorer, Gmt Master II in http://www.localdlish.com
We have a vast selection of rolex replica such as the Daytona, Milgauss, Submariner, Explorer, Gmt Master II in http://www.localdlish.com
We have a vast selection of rolex replica such as the Daytona, Milgauss, Submariner, Explorer, Gmt Master II in http://www.localdlish.com