SPEED + BEYOND
BMW UNVEILS NEW 2 SERIES
It comes with three engine variants and updates in the technology and design sectors.
12.07.2021
BY A. NUGROHO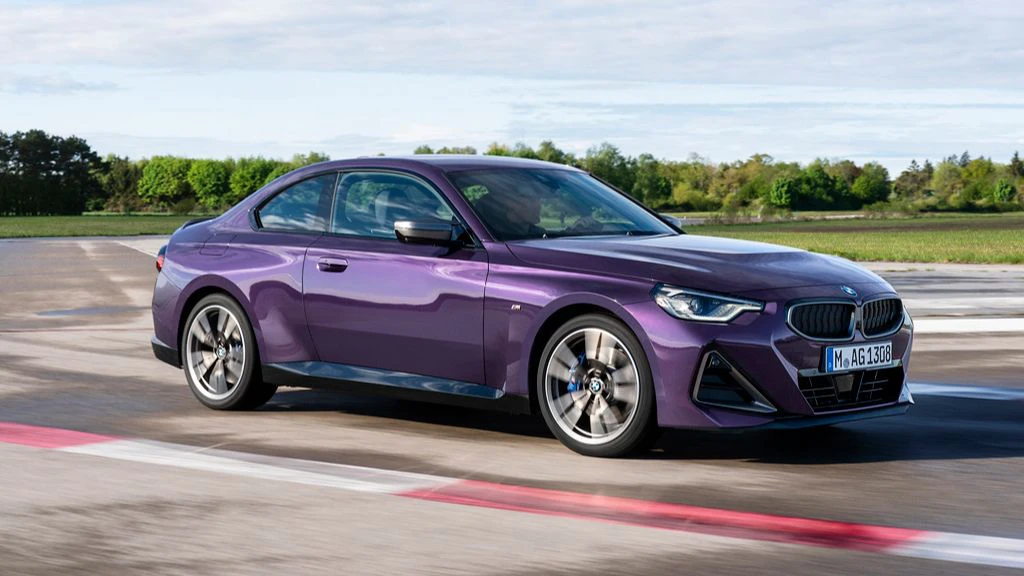 BMW presents a new chapter in the compact sports sedan class by introducing the all-new BMW 2 series. This compact coupe model comes with an attractive BMW signature design, a sporty driving feeling, thanks to a powerful engine and chassis technology.
BMW immediately presents three variants for the latest 2 Series, namely the BMW 220i Coupe, M240i x Drive Coupe, and the 220d Coupe. All three offer different engines for consumers who have a variety of preferences to suit their driving needs.
In terms of engine choice, the BMW 220i Coupe will use a 1,998 cc inline six-cylinder engine with a power output of 184 hp and a maximum torque of 300 Nm. This engine will be paired with an eight-speed Steptronic Transmission.
The BMW 220d Coupe is the choice for diesel enthusiasts. The 1,955 cc inline four-cylinder engine with mild hybrid technology can produce up to 190 hp and 400 Nm of maximum torque. The variant that is unlikely to be present in Indonesia is also paired with an eight-speed Steptronic transmission.
The most powerful is the BMW M240i xDrive Coupe variant which uses an in-line six-cylinder engine with 2,998 cc. This engine produces a maximum power of 374 hp and 500 Nm of torque with an eight-speed Steptronic Sport Transmission BMW xDrive. This variant will likely be limited to fans of the BMW M model.
Speaking of design, this compact sports sedan has a different line from the 1 Series. The new BMW 2 Series has wide proportions with various properties to maximise aerodynamics. The weight distribution is balanced between front and rear to maximize gravity, which has an important role in sports cars.
Compared to the old model, the new 2 Series is 105 millimetres longer, 64 millimetres wider, the wheelbase is 51 millimetres longer, and the size is increased by 28 millimetres.
Additionally, the eye-catching front-end design features individual headlights in BMW 02 style and a new-looking BMW kidney grille. Active air flaps that are arranged vertically, not bars. The pronounced curvature of the wheel arches gives the rear a powerful look. Compact taillight unit with reset LED light function—distinctive design accents for the M Sport and BMW M240i xDrive Coupé specifications.
Another interesting side is that the suspension has been upgraded with Electric Power Steering with a Servotronic function. The top model M sport gets a suspension package, brakes, and additional electronics for a sporty ride. The 17-inch light-alloy wheels come as standard, while 18 and 19-inch sizes are available for the M sport model, which is fitted with high-performance tires according to engine capability.
The interior is still typical of the BMW design, namely the driver-focused cockpit with a modern control panel in the middle and a fully digital display. Like other BMW models, the new 2 Series also gets an individual touch for consumers who want different interior materials than standard. Of course, ordering requires more outstanding funds and a longer time.
The security features are more sophisticated than the old model. There are front collision warning, speed limit info, lane departure warning, and cruise control with brake function as standard. Additional features include Driving Assistant with Lane Change Warning, Rear Collision Prevention and rear crossing traffic warning, Active Cruise Control with Stop&Go functionality including Manual Speed ​​Limit Assist, Park Distance Control, Reversing Assistant, Reversing Assist Camera, Surround View, and Remote 3D View. Also available for the BMW 2 Series Coupé for the first time: the BMW Head-Up Display and BMW Drive Recorder.
The new BMW 2 Series will premiere at the Goodwood Festival of Speed ​​in July 2021. This model will be made at the BMW Group facility in San Luis Potosi, Mexico, and is officially present in 2022.
When will it arrive in Indonesia? Looking at the previous strategy, the 2 Series was only offered to BMW fans in Indonesia, so that BMW Indonesia will do the same. Currently, BMW Indonesia offers the four-door M235i xDrive Gran Coupe at Rp1,269,000,000 and the M2 Coupe Competition variant with a manual transmission at Rp1,649,000,000. Meanwhile, the M2 Coupe Competition with M-DCT transmission is priced at Rp1,719,000,000.
#THE S MEDIA
#Media Milenial
#bmw 2 series
#2 series
#bmw 2 series gran coupe
#bmw 2 series coupe
#bmw
#2022 bmw 2 series
#new bmw 2 series
#bmw 2 series 2021
#bmw 2 series gran coupe review
#bmw 2 series 2022
#bmw 2 series review
#bmw 2 series coupe 2022
#2022 bmw 2 series release date
#2020 bmw 2 series
#2022 bmw 2 series news
#bmw 2 series coupe 2021
#2022 bmw 2 series coupe g42
#bmw 2 series gran coupe 2020
#bmw 2 series (automobile model)
#2 series coupe