FASHION + WATCHES
'SIGNS OF SPRING' COLLECTION: A SYMPHONY OF FASHION AT JAKARTA FASHION WEEK 2023
Harmonizing the Essence of Spring and Style at Jakarta Fashion Week 2023.
25.10.2023
BY PEACHY BECK
The "Signs of Spring" collection at Jakarta Fashion Week 2023 was a harmonious symphony of fashion, celebrating the rebirth and renewal inherent to the season. Fashionlink presented an awe-inspiring medley of creations by renowned designers Starry, NADJANI, and Glashka, each encapsulating the spirit of spring in a unique way.
Starry took a captivating journey back to the Victorian era, particularly the opulent "Belle Epoque" era in Paris. With meticulous attention to detail, their designs breathed new life into the past with billowing sleeves, cascades of ruffles, and a selection of delicate floral motifs adorning gowns characterized by soft hues and intricate design. The gowns were tastefully complemented with corsets, pearl accents, embroidered lace, and apron-like cross-design elements that harkened back to a popular fashion trend of the bygone era.
NADJANI presented a vibrant amalgamation of contrasting colors and playful patterns, such as gingham checks and plaid, interwoven with floral stripes. The resulting ensembles exuded dynamism and uniqueness. NADJANI took further creative leaps by exploring graphic-patterned fabrics embellished with bold, multicolored strokes, successfully injecting the spirit of springtime joy into their creations.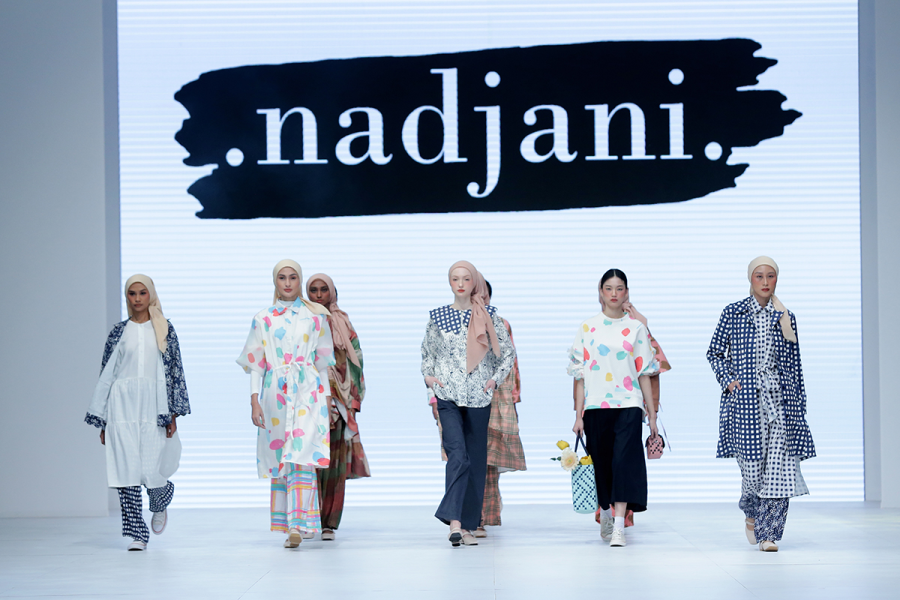 Glashka embraced the warm and inviting characteristics of the season with their modest yet stylish garments. Dominated by a color palette of cream, brown, and green, Glashka's collection put a spotlight on effortlessly elegant cuts, emphasizing harmonious color layering. This collection is destined to ignite the creativity of those who have a penchant for earthy tones, inspiring them to mix and match with a sense of anticipation.
All three collections resonated with the picnic aesthetic, incorporating natural woven accessories, floral motifs, and the classic gingham pattern. This served as a charming reminder to the audience not to overlook the pursuit of moments of tranquility and happiness in the midst of the bustling hustle and bustle of daily life. In addition to its role in fashion, the "Signs of Spring" collection beckoned the audience to rekindle a connection with the simple pleasures life has to offer, adding an enriching layer to the Jakarta Fashion Week 2023 experience.
#THE S MEDIA
#Media Milenial
#Jakarta Fashion Week 2023
#Signs of Spring Collection
#Indonesian Fashion
#Spring Fashion
#Fashion Designers
#Fashion Showcase
#Spring Inspiration
#Indonesian Creativity
#Jakarta Style
#Fashionlink
#Spring Aesthetics