SPEED + BEYOND
VESPA PRESENTS ELETTRICA (RED) EDITION
The Vespa Elettrica gets a RED touch. It's definitely a target for Vespa fans who love the environment.
08.12.2021
BY A. NUGROHO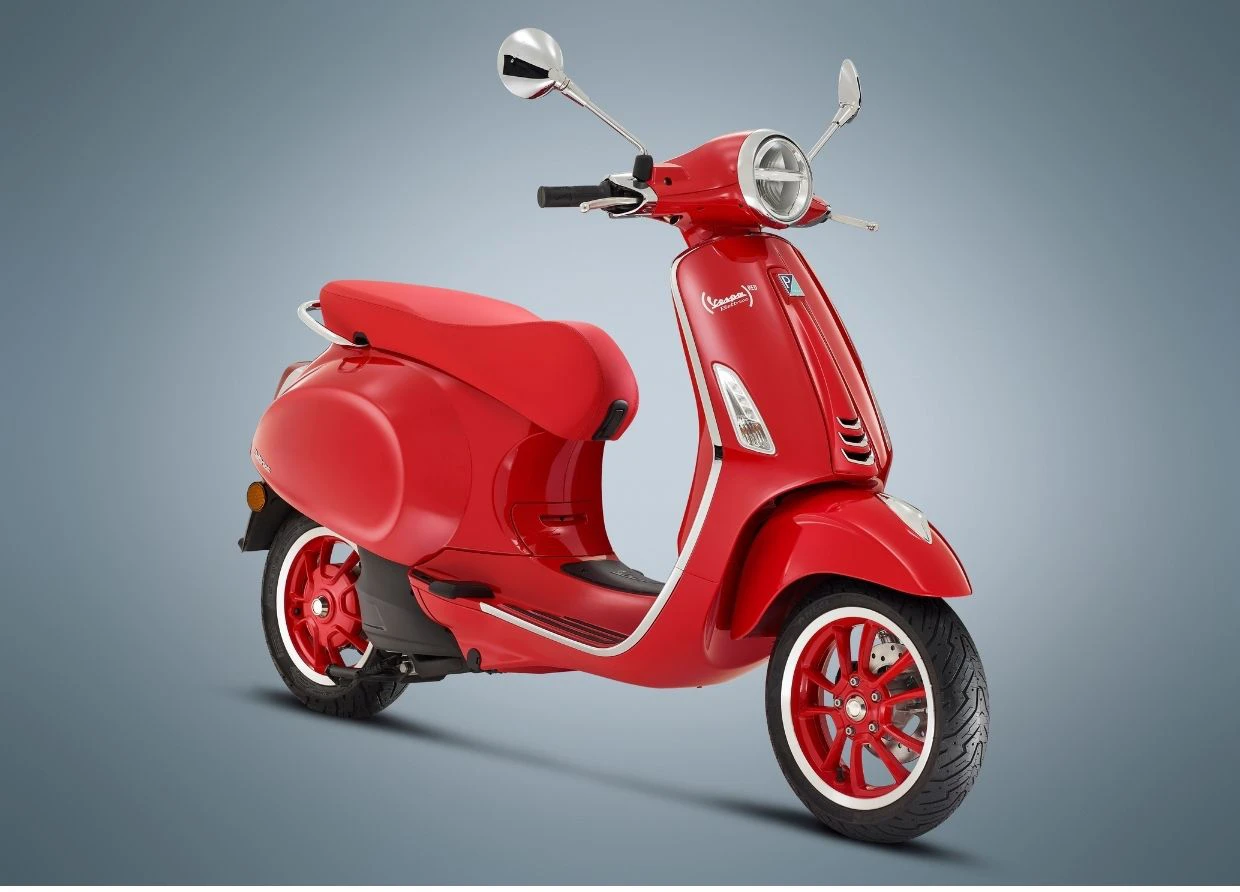 The partnership between the Piaggio Group and RED continues. This collaboration gave birth to the Vespa Elettrica, wrapped in all-red shades. The blood-red electric scooter is present at the EICMA 2021 exhibition, held in Milan. Piaggio said that $100 would be donated to the RED organization for each unit sold.
The Vespa Elettrica is the latest icon of Italian technology synonymous with advanced connectivity, quiet operation, adaptability and accessibility, respect for the environment, and unique style. This model is the ultimate expression of the Piaggio Group's research in electric mobility responding to environmental problems and providing technological solutions for city life.
The version had the standard's distinctive silver color removed and replaced with all-red paint on the body, including the seat to the rim. While the chrome-plated components are still visible on the handlebar console cover, protective list, mirrors, front-rear lamp covers, and handle handles on the tail, as well as on the front fenders.
View this post on Instagram

The changes in Elettrica RED are purely cosmetic. Its engine, technology, and features are the same as the standard version. The electric power unit, like the standard version, includes an air-cooled 4.2 kWh lithium-ion battery. The motor, created in collaboration with LG Chem, supplies individual cells to power the 48-volt battery. The scooter's top speed, at 51.4 km/hour, might be considered sufficient in an urban setting. Its pure electric-range range is 62 miles (100km).
Vespa claims the Elettrica takes about four hours to be fully charged with a minimum power of 220 V. Its battery has a lifespan of 1,000 charging cycles. The scooter also has energy recovery technology to charge the battery.
Another attractive specification is its 12-inch 110/70 front tires with 200 mm disc brakes. The rear tires use a size of 120/70-11 inches with braking entrusted to a 140 mm disc.
View this post on Instagram

At 287 pounds (130 kg), this model is still a slick urban mobility option, even in electric form. Unfortunately, Piaggio Group did not mention its price tag at the EICMA 2021 automotive exhibition stage.
Piaggio's partner organization RED was first founded in 2006 by U2 frontman Bono and activist Bobby Shriver. Initially, the organization was created to raise funds for the Global Fund to Fight AIDS, Tuberculosis, and Malaria. Presently, the organization had expanded its efforts to combat the COVID-19 pandemic.
In addition to having worked with Apple and Fiat, RED has also established a partnership with Vespa since 2016. The Vespa 946 model was the first to receive the (RED) treatment in 2017.
#THE S MEDIA
#Media Milenial
#vespa
#elettrica
#vespa red