ART + CULTURE
THESE INDONESIAN FILMS PASS SELECTION FOR BUSAN INTERNASIONAL FILM FESTIVAL 2021
Indonesian films are among the films to be screened at one of the largest film festivals in Asia, the Busan International Film Festival (BIFF) 2021.
17.09.2021
BY SYIFA
Three Indonesian films are among the films to be screened at one of the largest film festivals in Asia, the Busan International Film Festival (BIFF) 2021. Those three films are Seperti Dendam, Rindu Harus Dibayar Tuntas (Vengeance is Mine, All Others Pay Cash), Yuni, and a short movie titled Laut Memanggilku. The festival will be held on 6-15 October 2021.
Seperti Dendam, Rindu Harus Dibayar Tuntas is an adaptation of Eka Kurniawan's novel with the same title. The film, helmed by the renowned director Edwin, was screened at Locarno International Festival last August and managed to get a Golden Leopard award.
Seperti Dendam, Rindu Harus Dibayar Tuntas tells a story about Ajo Kawir, a hero who does not fear death. His strong drive to fight stems from a dark secret: he is impotent. When Ajo was pitted against Iteung, a tough female fighter, he was battered and turned inside out. He had fallen in love. Will Ajo be able to live a happy life with Iteung and, in the end, forgive him?
The film starred featured Indonesian most promising talents, Marthino Lio, Ladya Cheryl, Sal Priadi, Reza Rahadian, Ratu Felisha, Kevin Ardilova, Lukman Sardi, Eduwart Manalu, Djenar Maesa Ayu, Kiki Narendra, Piet Pagau, Yudi Ahmad Tajudin, Ayu Laksmi, Elly D. Luthan, Christine Hakim, and Cecep Arif Rahman.
While Yuni is a film by Kamila Andini, which has been screened in Toronto International Film Festival 2021 this September, along with Seperti Dendam, Rindu Harus Dibayar Tuntas. Both of the films were selected through A Window on Asian Cinema.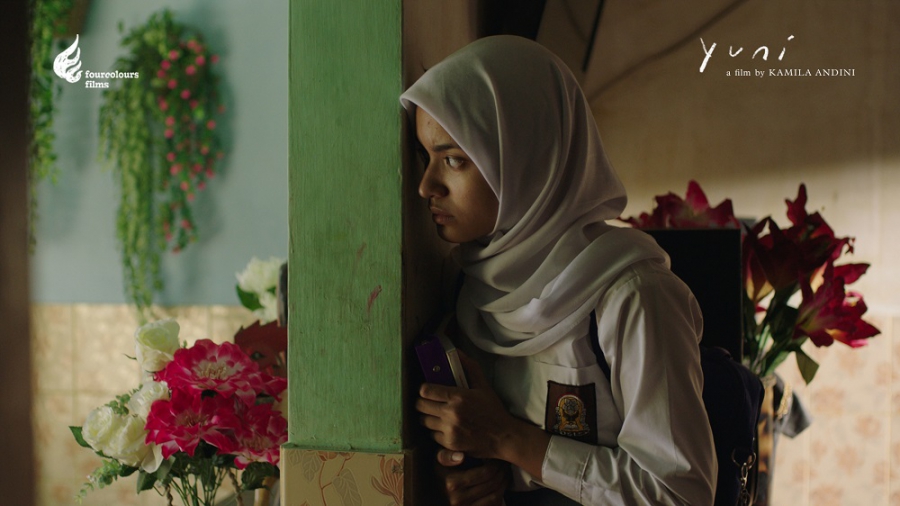 Yuni tells a story about Yuni, a smart teenager who has big dreams to go to college. When two men she barely knew came to propose to her, she turned them down. That refusal spawned rumors that a woman who rejects three marriage offers will never marry. When a third man proposed to her, the pressure mounted, and Yuni had to choose between believing in myths and pursuing her goals.
Yuni casts filled with such talents, Arawinda Kirana, Kevin Ardilova, Dimas Aditya, Marissa Anita, Asmara Abigail, Muhammad Khan, Nazia Thoyib, Neneng Risma, Vania Aurell, Boah Sartika, Anne Yasmin, and Toto ST Radik.
Tumpal Tampubolon's Laut Memanggilku were selected into BIFF's short movie competition named Wide Angle. This festival will be the film's world premiere.
Laut Memanggilku shows Sura (Muhammad Umar), who lives alone in a fishermen's village, waiting for his father to come home from the sea. One day, he found a doll that was carried away by the waves of piles of garbage. Sura brought the doll home, and the doll became Sura's friend and mother. But this warmth is threatened by Argo (Dikky Takiyudin), who wants to snatch the doll.
Busan is the special place
"I've always found ways to be able to come back to Busan International Film Festival which has been a 'home' for me. So I'm very happy that this year Yuni could hold its Asian Premiere in Busan," said Ifa Isfansyah, the producer of Yuni.
While Meiske Taurisia, the producer of Seperti Dendam, Rindu Harus Dibayar Tuntas has the same nostalgia. Busan is a special place because her first film, made with Edwin, Babi Buta yang Ingin Terbang (2008), competed in the New Currents Program. It is a competition for the first and second films of a filmmaker dedicated to finding new young directors of Asia.
"Busan International Film Festival is a festival that is consistently supporting Asian films, and we are very proud to be selected to compete there," added Mandy Marahimin, producer of Laut Memanggilku.
This year's BIFF is the 26 edition. Some of the festival's programs are A Window on Asian Cinema which is the pinnacle of Asian cinema's diverse styles and perspectives, showcasing films by Asia's most brilliant person of the year as well as the work of a renowned director in the business.
While the New Current Award is given to two films made by Asia's first or second feature-length up-and-coming fiction filmmakers. Every film must have its world or international premiere.
Last but not least, is the Wide Angle program. It is a section dedicated to showcasing outstanding short films, documentaries that offer a wide cinematic point of view and a different vision.
From a child's longing, women dreams, to toxic masculinity
All three films tell the tale of Indonesians, yet each one does so from a different perspective and also time background. Laut Memanggilku is about a child's longing, Yuni is about the dreams and restrictions that women in Indonesia face, and Seperti Dendam, Rindu Harus Dibayar Tuntas tells about toxic masculinity and pop culture.
"Can I make a film that redefines the impact of popular culture while also criticizing the idea of toxic masculinity? I always question where is the place for sensitive humans in Indonesia, who glorify machismo and often use 'violent language' as their daily expression," Edwin explained his motivation in directing the film.
While for Kamila Andini, Yuni was inspired by one of the most famous poems by the late Sapardi Djoko Damono, 'Hujan di Bulan Juni'. It's about the rain that falls in the wrong season. Kamila created Yuni as a teenager who was forced to be an adult way too soon. While a teenager is supposed to be exploring the world, social media could open her way into it, but all she could do was thinking about marriage proposals and getting married.
"I heard so many stories about girls teenagers who have potential and achievements but have to fail because of marriage, and I feel the need to talk about this issue," Kamila added.
While for Tumpal, the film came from a sense of loss of the simple things that this pandemic has taken away. Like handshakes, embraces, hugs, kisses. Through the films, Tumpal reconsiders what touch means and how contact between humans and other living beings has shaped, nurtured, treated, and accompanied him. He learned that he's not alone.
There's a fourth film
Excited enough? Well, it turns out that there are a total of four Indonesian films that will be screened in BIFF this year. The fourth is Wregas Bhanuteja's first feature film, Penyalin Cahaya.
The film was selected as a New Currents program for the Busan International Film Festival. After Edwin (Blind Pig Who Wants to Fly) in 2008 and Kamila Andini (The Mirror Never Lies) in 2011, Penyalin Cahaya became the third Indonesian film to compete in the program.
Seperti Dendam, Rindu Harus Dibayar Tuntas will be available in Indonesian cinemas by the end of 2021. While Yuni is planned to be released commercially in 2022.
#THE S MEDIA
#Media Milenial
#BIFF 2021
#Seperti Dendam
#Yuni
#Vengeance is Mine
#Laut Memanggilku
#Penyalin Cahaya