TRAVEL + LEISURE
THE MOST BEAUTIFUL VILLAGES IN THE WORLD
Indonesia is on the list.
31.08.2021
BY HANUM FAUZIA
If you are wondering what is the difference between a village and a town, the latter has local government and fixed boundaries. Villages are small, rural communities with a population varying from a few hundred to a few thousand people.
These are some of the prettiest villages worldwide according to Budget Travel. You can live in all of them apart from one, which is a movie set. That being said, below is our list of the most beautiful villages around the world.

Nagari Pariangan, Indonesia
View this post on Instagram
Pariangan is one of the best-preserved traditional Minangkabau villages, containing many 'rumah gadang' — traditional houses. The oldest houses are three hundred years old and feature beautiful wood-carving and walls woven from rattan.
The town also features a 'surau' — a communal living quarters for unmarried males, one of few surviving examples of such a structure. The centerpiece of the town today is a large traditional mosque said to date back to the beginning of the nineteenth century.
It is believed to be the oldest Minangkabau mosque in existence. Alongside the mosque, today are the hot springs where communal bathing continues as it has for centuries.

Bibury, England
Bibury is a charming, typically Cotswold village just a short drive from Cirencester. It's easy to see why William Morris called Bibury 'The most beautiful village in England' – wonderful stone buildings strung out along the banks of the River Coln.
Arlington Row, owned by the National Trust, is one of England's most iconic and photographed sites – it even appears on the inside cover of UK passports! Originally built in the 14th century as a monastic wool store, it was converted in the 17th century into a row of weavers' cottages. The cottages are now lived in by National Trust tenants, with no public access to the cottages or gardens, although one of them can be rented out as a holiday cottage.

Savoca, Italy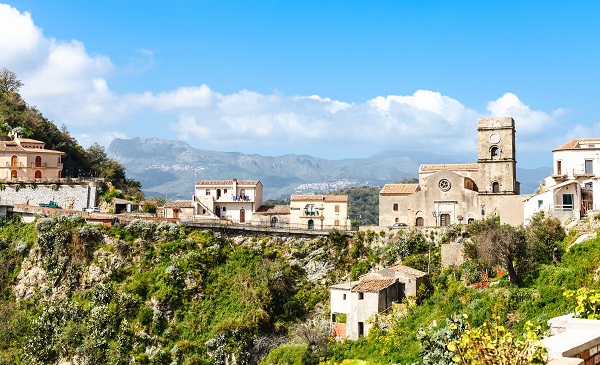 Savoca (Messina) is one of the most beautiful villages in Italy, whose name derives from the plant of the elder (savucu in Sicilian dialect), a shrub with white and fragrant flowers that still grows wild in the cracks between houses and which is represented in the medieval coat of arms of the village.
This small town set in the rock of a hill of the dual tip experienced the interest of kings, popes, and Archimandrite prelates, in a succession of periods of serious crisis and prosperity. The basalt blocks lying on roads leading between separate small houses, freshly restored with Sicilian tiles on the roofs and windows framed in stone, then following streets in the rock here, you'll find extremely fragmented ruins and old cisterns.

Wengen, Switzerland
Wengen is a car-free alpine village in the Jungfrau region, surrounded by hiking trails in summer and ski slopes in winter. It's a perfect base for excursions to Jungfraujoch, Kleine Scheidegg and Männlichen.
Like many popular villages, Wengen is pretty touristy. Still, we feel it's in a good way: all facilities like hotels, the basic shops, and transportation systems are there, so it's easy to experience the Jungfrau region without hassle. At the same time, there's no traffic, large shopping centers, or fast food places.

Èze, France
Èze is a beautiful village on top of a hill with possibly the best views over the French Riviera. Walk around on the narrow pedestrian streets and visit the art galleries and the beautiful botanical gardens. The small town is located between Nice and Monaco and is easily accessible from both cities by bus.
The hilltop village of Eze (Èze) is not to be confused with its sister town Èze-sur-Mer (sometimes called Èze bord-de-Mer), located on the water. This tiny perched village sits atop a hill at roughly 430 meters above the Mediterranean coastline. The view from the townsite is among one of the most stunning along the Côte d'Azur.
Shirakawa, Japan
View this post on Instagram
Shirakawa-go (Shirakawa Village) is a Japanese mountain settlement in what was once considered a wild and unexplored region. Because of the area's natural environment, with high mountains and heavy snowfall, interaction with neighboring regions was limited. However, this also created the conditions for the development of unique cultural practices and lifestyles.

Chimayo, USA

Nestled in the foothills of New Mexico's stunning Sangre de Cristo Mountains just a short drive north of Santa Fe is Chimayó – a tiny community originally founded by Spanish settlers in the late 17th century. Recently listed among Budget Travel's Most Beautiful Towns in the World, Chimayó is a town with roots in spirituality. The beautiful El Santuario de Chimayó, a shrine and National Historic Landmark, marks the spot where a miraculous healing is said to have taken place 200 years ago. The peaceful community is also known for its traditional weaving – examples of which can be found at a number of stores and galleries in town – and is the home of the Chimayó Heirloom chile.

Taos, Mexico
A gorgeous town steeped in history and culture, Taos was named among the World's Prettiest Mountain Towns by Travel and Leisure magazine. It is known for its scenic location in the Sangre de Cristo Mountains, beautiful historic architecture and art heritage. Since the early 20th century, artists including Ansel Adams and Georgia O'Keeffe have flocked to the town enchanted by its beauty.
With organizations like Taos Art Museum alongside regular arts and crafts fairs, Taos remains an artists' haven today. Just outside the town is Taos Pueblo – an adobe pueblo structure and UNESCO World Heritage Site dating back 1,000 years – and the area's four ski resorts make the town a popular base for skiing in wintertime.
#THE S MEDIA
#Media Milenial
#beautiful villages
#in the world