CULINARY
THE BEST INSTANT RAMEN IN THE WORLD! 
Indomie is on the list!
30.05.2022
BY HANUM FAUZIA
I can say that instant ramen is my savior when the craving is suddenly coming. My favorite is absolutely Indomie Mi Goreng. But turns out, Indomie is not only my favorite, people around the world raise their thumbs for this Indonesian product.
The Strategist talked with some experts, including chefs, food writers, cookbook authors, and other foodies: "which instant noodles are the best?"
Here are their recommendations!

Indomie Mi Goreng: best instant noodles
Some of The Classics are Indomie's first products in the market, but what makes The Classics special? Turns out it is the richness in taste and its originality. The fried garlic completes the taste and its seasonings are unique, making the noodles much more savory and delicious.
The Classics is also special because it's formulated with vitamins A, B1, B6, and B12 that are needed by our body. Over the years, Indomie has served the best of instant noodles and has created a culture of eating noodles as a midnight snack or for breakfast, lunch, and dinner. Of course, it is because of the unique Indomie taste and various flavors that have entered everyone's heart. It's a waste if you don't take the time to try these instant noodles!

MyKuali Penang White Curry Noodles: Best soupy instant noodles
MyKuali Penang White Curry, calling it "one of the best; with a deep seafood flavour, slightly sweet and almost coconutty." MyKuali Penang White Curry wasn't the only Malaysian instant noodles that made it to the list. The fifth place is Ibumie Mi Goreng (Kapitan Curry). According to the L.A. Times, "The Curry Kapitan flavor brings a strong, distinct profile — cumin, coriander and chile — to create a very satisfying dry noodle. The sweet-spicy combo is done exceedingly well here; the sweetness is deep and caramelly, like brown sugar."
Another Malaysian product that made it to the Top 10 is another one of MyKuali's creations- Penang Spicy Prawn which they said, "This one tops, by far, the Truth in Advertising ranking. Your mouth will taste like the lining of a shrimp boat captain's gloves — in a good way, of course."

Mama Instant Noodle Shrimp Creamy Tom Yum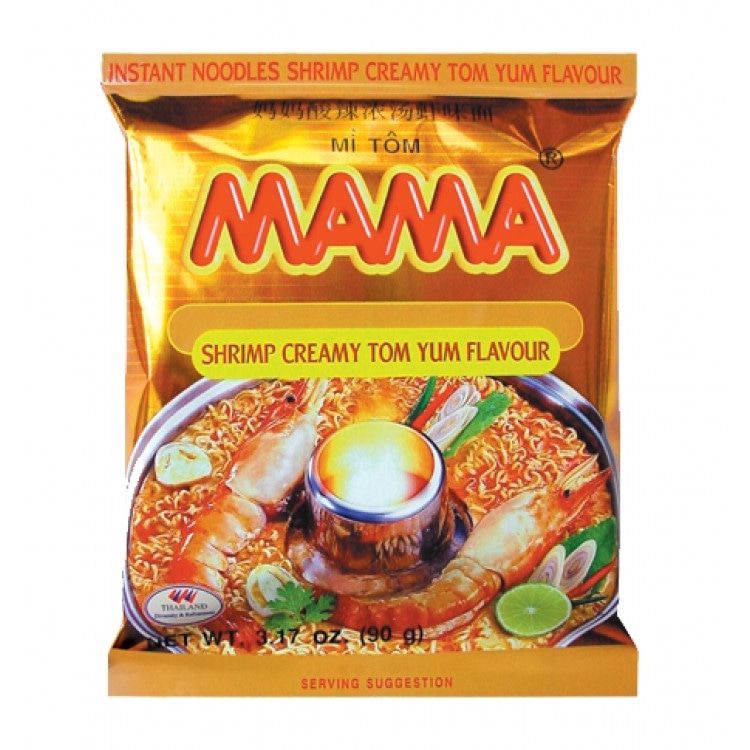 Mama's Creamy Tom Yum Noodles was recommended by Nong Poonsukwattana, the chef behind Portland's chicken-and-rice haven Nong's Khao Man Gai, for their tangy, lemongrass-laced flavor. She said they have been a staple since she was a kid, when she would "just crumble the noodles and put everything that comes in the package on top and eat it." (Noodle connoisseurs know that any crunchy fried instant noodles are pretty great to be eaten straight from the package.) While these instant noodles are traditionally prepared as a soup, Poonsukwattana said she instead uses them in a noodle salad in an effort to eat healthier. She added shrimp, shallot, lemongrass, mint, and lettuce to the cooked and strained noodles, and swaps out the tangy seasoning packet for a citrusy fish-sauce dressing.
If your eyes slightly popped at the price, know that the 20-pack of noodles comes with a long-handled spoon which you can use to prepare them.

Nissin Instant Ramen Noodles With Soup Base, Black-Garlic Oil, Tonkotsu Pork
Food writer Cathy Erway, author of The Food of Taiwan, pointed us to these noodles that come with an extra ingredient to make the dish, well, extra. "They have this little packet of black-garlic oil, which creates these little droplets of black oil across the top of your bowl — a nice touch that feels kind of fancy for instant noodles," she said.
Erway also cracks an egg into her noodles as they cook. "An egg is imperative: About halfway through the cooking process, I crack one into the center of the pot with the noodles and don't stir it anymore," she says. "A couple minutes later, the noodles and egg are cooked; the yolk is usually still a little soft."
"If I happen to have some fresh leafy greens like spinach, I'll also drop them into the pot toward the end of cooking," she added.

Best spicy instant noodles: Nongshim Shin Noodle Ramyun
Like most noodle producers, best-selling Korean brand NongShim makes various ramen. I have tried some of them and the Spicy Pot-au-feu Flavor was the best. It has a winning combination of a complex, spicy broth, substantial dehydrated vegetables, and toothsome noodles. I couldn't stop eating these.
The Shin Black noodles are a premium version of NongShim's popular Shin Ramyun noodles (which food blogger and cookbook author Maangchi recommended), and they contain an additional "sul-long-tang" (ox bone) seasoning packet. The milky bone broth makes Shin Black's soup creamier and less spicy than the original Shin Ramyun.
#THE S MEDIA
#Media Milenial
#the best instant ramen
#indomie