ENTREPRENEURS
SABINE AND HEEM: WEMPI JANUAR AND SHABRINA SHARES BUSINESS JOURNEY AS A COUPLE
Wempi Januar and Shabrina proof that married couple can work together professionally
06.02.2022
BY MIA ROSMAYANTI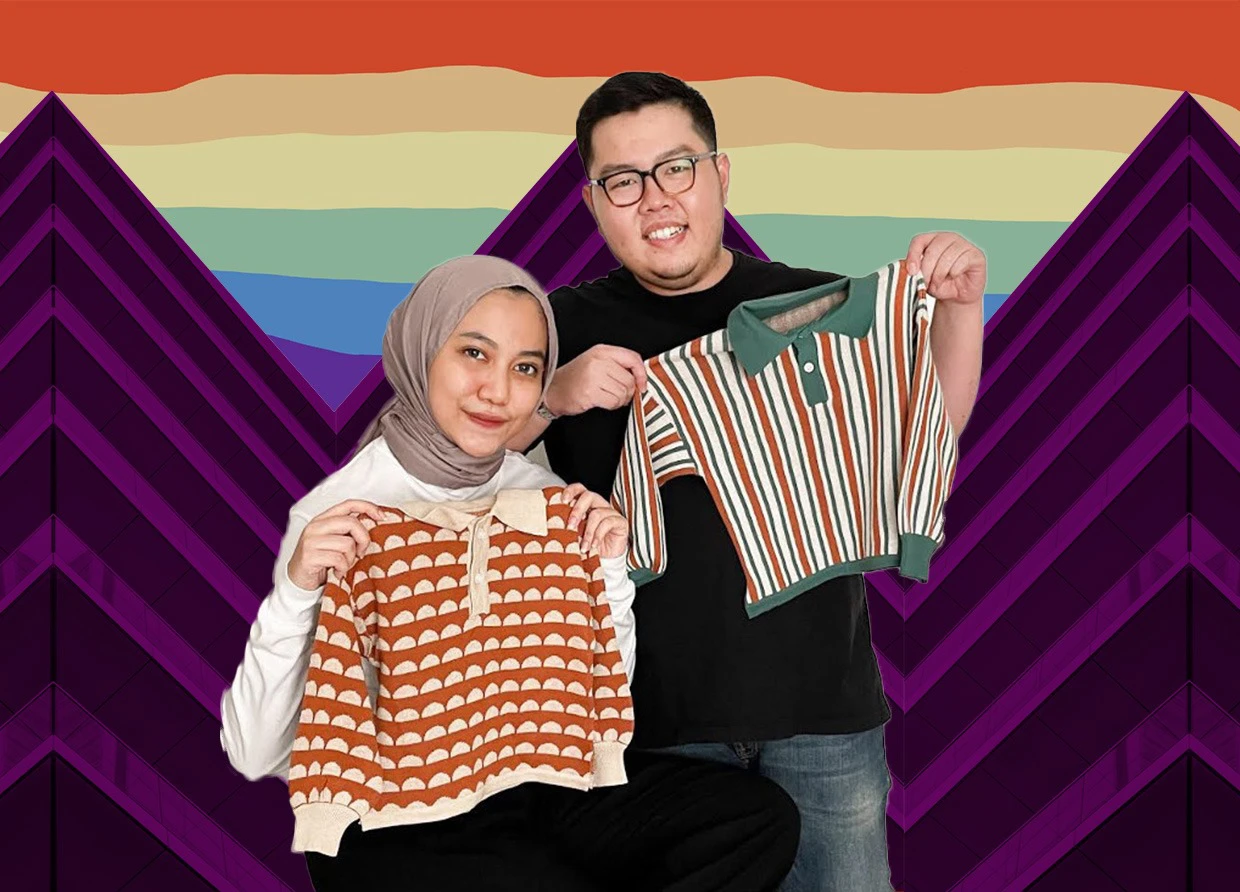 Sabine and Heem may sound like foreign brands, yet they are really Indonesian. This local fashion firm specializing in baby and children's items was founded by a young married couple, Wempi Januar and Shabrina (Bina). Their enthusiasm in starting their own business inspired the creation of this enterprise in December 2018.
View this post on Instagram

With a delightful, traditional, and timeless concept, the Sabine and Heem collection is appealing and suited for daily-wear fashion. Bina and Wempi seek to provide beautiful childhood experiences for children by carrying the notion of "Creating Pleasant Childhood Memories." The product line is expected to be a part of the wonderful recollections of children's childhood. This fashion label was inspired by their two children and also signifies "A Joyful and Struggling Child."

Experiencing rolling-coaster process
However, just like an entrepreneur that started from the ground up, Bina and Wempi had ups and downs while creating Sabine and Heem. After declaring bankruptcy in June 2018, they attempted to break into the realm of children's fashion where the commercial prospects are more promising and the execution is simpler.

Although Bina has interior design experience and Wempi has a history in food and beverage, they are keen to enter the children's fashion market. Based on their personal experiences, both identified a potential in this industry, notably when it was difficult to acquire local products for children's fashion that were both high in quality and reasonably priced.
View this post on Instagram

According to them, three years ago, there were few local children's companies that offered reasonable costs, a variety of models, and high quality. The majority of the market at the time was more focused on the concept of full print and vivid colors.

Imported goods are less expensive and have more distinctive designs than domestic goods. This is what makes people choose foreign products. It's a pity because many local products are of high quality and reasonably priced.

Another aspect that piqued Wempi's interest was the fact that 24.5 percent of the Indonesian population was between the ages of 0 and 4. This indicates that a significant business opportunity is on the horizon.

"That is one of the reasons we decided to start a children's fashion company." "At the time, there were not many children's fashion demands that gave the greatest quality items and concepts of earthy and informal," he explained.

Bumpy Start
Bina and Wempi formed Sabine and Heem with a capital of Rp 5 million, the remainder of savings after going bankrupt. Sabine and Heem were initially operated solely by the two founders, with no employees, in order to decrease operational costs and optimize production costs. They currently employ more than ten people and have a monthly revenue of Rp 187 million. Sabine and Heem's business is expanding in a healthy direction.

"Our firm has grown tenfold since Sabine and Heem was formed with only ten staff," said Wempi, who has now opened offline stores in Central (Grand Indonesia) and Buiboo (Kota Kasablanka).

The models and materials used by Sabine and Heem distinguish them from other brands. Combed cotton, linen, cotton, rib, corduroy, jeans, and other materials are used by this brand. Not only that, but the materials used in each product have been carefully chosen so that they are comfortable for children to use, do not cause itching or heat, and are long-lasting.

Sabine and Heem also offer a wide range of accessories, from head to toe, in a variety of styles that are no less appealing. Plus, there's a story behind each collection. Bina-Wempi consistently undertakes market research on what consumers want while manufacturing Sabine and Heem products. Aside from that, they continue to innovate products based on what customers want and need.

"We put out a design with a unique touch that is off-the-shelf and can be used regardless of the season," Bina explains. Next August, Wempi and Bina will adopt regional names like Waerebo and Rinjani.

"Over the next five years, we expect that our products will be able to reach the international market and that we will be able to ship overseas based on market needs," Wempi said.

The power of social and digital media is utilized, as it is with the majority of firms founded by millennials. Bina and Wempi created a campaign with the hashtag #CreatingChildhoodMemories in order to construct a business and emerge from the pandemic's dilemma. They believe that Indonesian youngsters would be able to make beautiful memories that will last a lifetime.

This promotion is reflected on Sabine and Heem's social media. This brand is also available on major e-commerce platforms like Shopee, Tokopedia, and Zalora, as well as on Instagram.
#THE S MEDIA
#Media Milenial
#sabine and heem
#wempi januar
#local fashion brand for kids
LATEST NEWS
We have a vast selection of rolex replica such as the Daytona, Milgauss, Submariner, Explorer, Gmt Master II in http://www.localdlish.com
We have a vast selection of rolex replica such as the Daytona, Milgauss, Submariner, Explorer, Gmt Master II in http://www.localdlish.com
We have a vast selection of rolex replica such as the Daytona, Milgauss, Submariner, Explorer, Gmt Master II in http://www.localdlish.com
We have a vast selection of rolex replica such as the Daytona, Milgauss, Submariner, Explorer, Gmt Master II in http://www.localdlish.com
We have a vast selection of rolex replica such as the Daytona, Milgauss, Submariner, Explorer, Gmt Master II in http://www.localdlish.com
We have a vast selection of rolex replica such as the Daytona, Milgauss, Submariner, Explorer, Gmt Master II in http://www.localdlish.com
We have a vast selection of rolex replica such as the Daytona, Milgauss, Submariner, Explorer, Gmt Master II in http://www.localdlish.com
We have a vast selection of rolex replica such as the Daytona, Milgauss, Submariner, Explorer, Gmt Master II in http://www.localdlish.com
We have a vast selection of rolex replica such as the Daytona, Milgauss, Submariner, Explorer, Gmt Master II in http://www.localdlish.com
We have a vast selection of rolex replica such as the Daytona, Milgauss, Submariner, Explorer, Gmt Master II in http://www.localdlish.com
We have a vast selection of rolex replica such as the Daytona, Milgauss, Submariner, Explorer, Gmt Master II in http://www.localdlish.com
We have a vast selection of rolex replica such as the Daytona, Milgauss, Submariner, Explorer, Gmt Master II in http://www.localdlish.com
We have a vast selection of rolex replica such as the Daytona, Milgauss, Submariner, Explorer, Gmt Master II in http://www.localdlish.com
We have a vast selection of rolex replica such as the Daytona, Milgauss, Submariner, Explorer, Gmt Master II in http://www.localdlish.com
We have a vast selection of rolex replica such as the Daytona, Milgauss, Submariner, Explorer, Gmt Master II in http://www.localdlish.com
We have a vast selection of rolex replica such as the Daytona, Milgauss, Submariner, Explorer, Gmt Master II in http://www.localdlish.com
We have a vast selection of rolex replica such as the Daytona, Milgauss, Submariner, Explorer, Gmt Master II in http://www.localdlish.com
We have a vast selection of rolex replica such as the Daytona, Milgauss, Submariner, Explorer, Gmt Master II in http://www.localdlish.com
We have a vast selection of rolex replica such as the Daytona, Milgauss, Submariner, Explorer, Gmt Master II in http://www.localdlish.com
We have a vast selection of rolex replica such as the Daytona, Milgauss, Submariner, Explorer, Gmt Master II in http://www.localdlish.com