SPEED + BEYOND
POLAND'S INDUSTRIAL PROWESS ON THE GLOBAL STAGE: FROM LOCOMOTIVES TO LUXURY YACHTS
In a dynamic blend of engineering excellence and craftsmanship, two exceptional entities stand out: the PESA factory and the Sunreef Yacht Shipyard.
21.08.2023
BY SARI KUSUMANINGRUM
Poland's industrial landscape boasts remarkable achievements that resonate globally, from pioneering locomotive innovations to crafting luxury yachts that grace the world's waters. In a dynamic blend of engineering excellence and craftsmanship, two exceptional entities stand out: the PESA factory and the Sunreef Yacht Shipyard.

PESA Bydgoszcz SA: Leading Polish Rail Vehicle Manufacturer and Innovator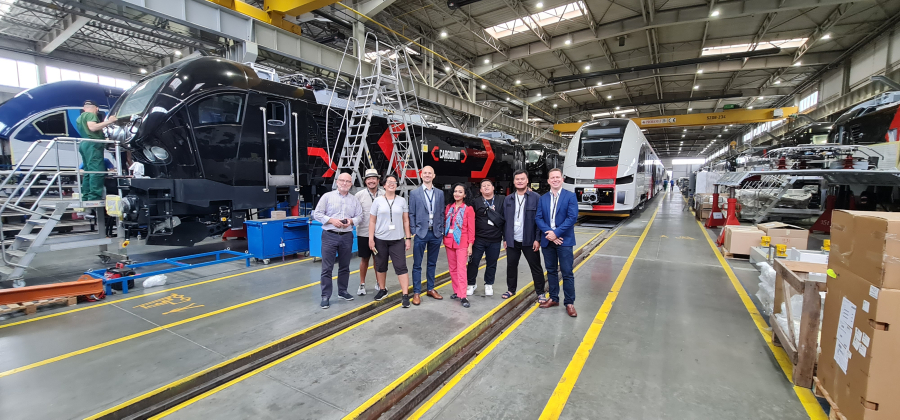 A journey through the PESA factory in Bydgoszcz offers a glimpse into Poland's locomotive supremacy. The factory's pioneering spirit culminated in the creation of the world's first Hydrogen Locomotive, an emblem of sustainable transportation. As the largest Polish producer of rolling stock, PESA's vehicles traverse rails across 11 countries in Europe and Asia, a testament to their quality and innovation. With a steadfast commitment to pushing boundaries, PESA's locomotives symbolize Poland's dedication to engineering ingenuity that transcends borders.

PESA Bydgoszcz SA, the largest rail vehicle producer and modernizer in Poland, is well-positioned to navigate current market challenges while focusing on growth. With a storied lineage rooted in the renowned Królewskie Główne Warsztaty Naprawcze Kolei, established in 1851 and later known as ZNTK Bydgoszcz after World War II, the company draws from over 160 years of experience and unwavering dedication to technological advancements. This legacy empowers PESA to effectively compete in the contemporary European market.

PESA's trains and trams are meticulously designed to cater to the needs of both carriers and passengers. Beyond Poland's borders, these vehicles have found homes in Lithuania, Ukraine, Belarus, Italy, Hungary, Romania, Czech Republic, Kazakhstan, Germany, Russia, and Bulgaria, demonstrating their wide-reaching impact.

The company's flagship offerings include the tried-and-tested Diesel Multiple Units Atribo ATR 220, proven successful in the Italian market. Additionally, the cutting-edge Link, representing the next generation of trams, has garnered significant interest from both domestic and foreign carriers. The electric Elf stands out for meeting rigorous collision requirements, while the low-floor tram Swing, famously contracted for 186 vehicles in Warsaw, contributes to seamless urban mobility.

PESA's commitment to high production standards is validated by a multitude of certifications from esteemed national and international bodies, including the esteemed IRIS 02 and Q1 certifications, underpinning the company's emphasis on quality assurance and operational excellence.

PESA Bydgoszcz SA's aspiration is to furnish its customers with contemporary, robustly crafted products. Backed by a legacy of innovation and a pledge to unwavering quality, PESA continues to shine as a global leader in the rail industry, dedicated to shaping efficient and reliable solutions that stand the test of time.

Sunreef Yachts Shipyard: Crafting Uniquely Luxurious Catamarans in Poland
In Poland's shipyards, luxury takes the form of Sunreef Yachts. Ranked fifth worldwide in yacht production volume and second in yachts up to 10 meters, Poland's shipyards are synonymous with excellence. The Sunreef Yacht Shipyard stands as a testament to Poland's mastery in yacht craftsmanship. With 95% of its production exported globally, these yachts encapsulate Poland's influence on the luxury maritime scene. Each vessel, meticulously crafted, embodies a fusion of innovation, design, and precision that has solidified Poland's position as a global yacht production powerhouse.

Established in Gdansk, Poland, in 2002 by French entrepreneur Francis Lapp, the Sunreef Yachts shipyard has cultivated a wealth of knowledge, experience, and technical expertise required to craft exceptional multihull vessels using cutting-edge yachting technology. This dedication to innovation and quality has solidified its position as a leader in the industry.

Each Sunreef custom-made catamaran is meticulously designed to cater to the most discerning clientele, offering unparalleled levels of comfort, living space, and safety. The core ethos of Sunreef revolves around combining high-performance sailing capabilities, tailored luxury accommodations, expansive living areas, and forward-thinking design elements. Thanks to their distinct twin-hull configuration and optimal weight distribution, Sunreef catamarans boast remarkable stability that surpasses traditional monohulls. Often referred to as "floating villas," these vessels provide double the living space compared to their monohull counterparts. The result is a splendid harmony of remarkable space and exceptional stability, ensuring that time spent on board is nothing short of a delightful experience.

The versatility of Sunreef Yachts is a hallmark of their success. Their catamarans are known for accommodating customization requests, tailoring designs to meet individual preferences. With a firm commitment to exceeding expectations, Sunreef Yachts has firmly established itself as the frontrunner in crafting luxury catamarans.

With an impressive portfolio of over 80 meticulously crafted sailing and power units tailored to individual desires, Sunreef Yachts has captured the admiration of global customers. Their dedication to marrying innovation, customizability, and unparalleled luxury underscores their unrivaled position in the luxury catamaran market.

As Sunreef Yachts continues to redefine the boundaries of yacht design and craftsmanship, their legacy of excellence sails onward, creating vessels that are not just ocean-bound marvels, but personalized paradigms of opulence and comfort.
Poland's industries, whether rail or maritime, transcend mere production. They encapsulate innovation, vision, and an unwavering dedication to excellence. PESA and Sunreef Yachts are beacons of Poland's industrial prowess, each contributing to the nation's footprint on the international stage. In locomotives and luxury yachts, Poland's impact is felt – in the wheels that turn and the sails that catch the wind – shaping the trajectory of industries and influencing the world in remarkable ways.
#THE S MEDIA
#Media Milenial
#PESA
#Luxury
#Locomotive
#Sunreef Yachts
#Business
#Economy