TRENDING NOW
MINISTER OF CREATIVE ECONOMY: F1 POWERBOAT PROVES LAKE TOBA IS WORTHY OF BEING AN INTERNATIONAL EVENT LOCATION
Minister Sandiaga Salahuddin Uno confirms Lake Toba's potential as an international event destination with the successful hosting of the F1PowerBoat race, breaking any doubts and marking its readiness for world-class events.
08.03.2023
BY SUKSMAJATI KUMARA
Minister of Tourism and Creative Economy Sandiaga Salahuddin Uno stated that the world's most prestigious fast boat racing event F1PowerBoat at the Super Priority Tourism Destination (DPSP) Lake Toba, North Sumatra, proved that Lake Toba is suitable to be the location for various international events.
"The implementation of this event marks the readiness of Lake Toba. So if anyone doubts Lake Toba as the host of a world-class event, we can break this (assumption),'' said Menparekraf Sandiaga in a press conference after playing the F1PowerBoat race at the F1PowerBoat Media Center located at the Harbor His Majesty Raja Napitupulu, Balige, Sunday, February 26, 2023.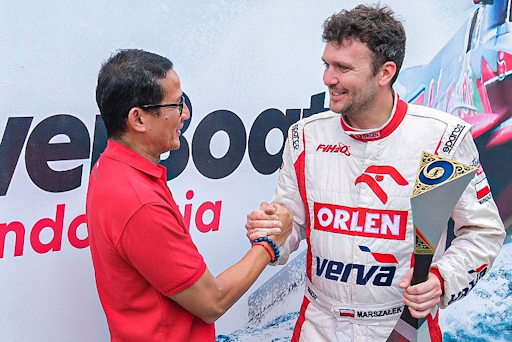 Sandiaga said that holding the F1PowerBoat race on Lake Toba also proved that Lake Toba was able to put forward the concept of environmental sustainability. In addition, the implementation of the F1PowerBoat has also succeeded in driving the economy of the people around the Lake Toba area, especially in Balige.
Based on the data he obtained, Sandiaga said the total economic impact from the implementation of the F1PowerBoat was estimated to reach Rp 300 billion with a target of up to 25 thousand tourists.
"North Sumatra's creative craft products are displayed at MSME booths including the Lake Toba Authority Executing Agency (BPODT). Here we also provide some support through HR training, providing infrastructure, and monitoring accommodation readiness," he said.
In the future, Sandiaga said that his party would increase the presence of international-class events on Lake Toba, starting from film festivals to world music festivals. "So this event will trigger more activity and investment (in Lake Toba) so that we can revive the economy and open up business and employment opportunities," said Sandiaga.
In this racing series, a racer from Stromoy Racing, Bartek Marszalek won first place after blazing the 2.2 km circuit for 18 laps. With this result, Marszalek is entitled to 20 points which is an important capital to wade through the next seven rounds in the 2023 F1 Powerboat season.
At this press conference, Sandiaga was accompanied by the Deputy for Tourism Products and Event Organizers of the Ministry of Tourism and Creative Economy, Vincent Jemadu; Director of National and International Events for the Ministry of Tourism and Creative Economy, Dessy Ruhati; and Head of the Ministry of Tourism and Creative Economy/Baparekraf Communication Bureau, I Gusti Ayu Dewi Hendriyani. Also present was the Director of Information and Communication for the Economy and Maritime of the Ministry of Communication and Information Septriana Tangkary.
#THE S MEDIA
#Media Milenial
#F1
#Toba Lake
#Indonesia
#Wonderful Indonesia
#Sandiaga Uno
#Sumatra