ART + CULTURE
JUSTIAN JAFIN SPEAKS SOCIAL CHANGE THROUGH ITS PAINTING
Indonesian contemporary artist, Justin Jafin blows up social issues in collage art form.
25.04.2021
BY HANUM FAUZIA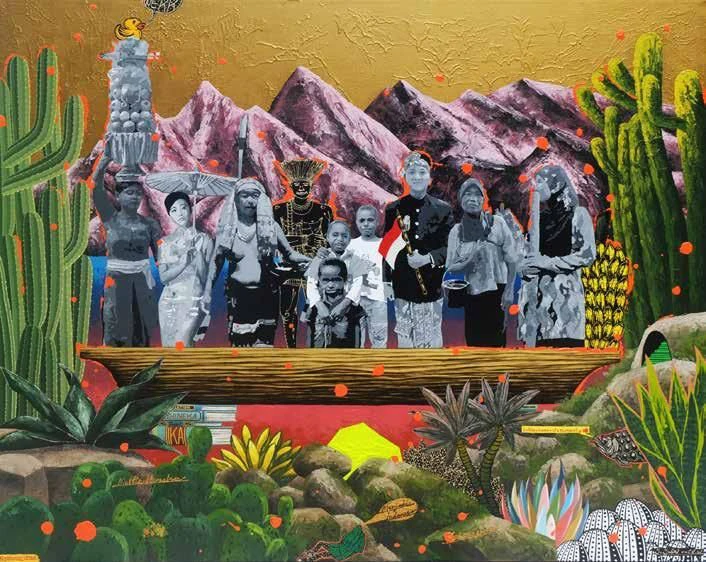 Social problems have layered dimensions if we pay attention through diverse eyes who have their own characters and personal experiences. Masterpieces of Justian Jafin is a visual ambition from multidimensional perspectives who tried to explode social issues using a variety of layered elements like collage art.
Art through Justian Jafin's eyes
Born from a family who dedicates their life as an artist, Jafin feels like he also has the same destiny as his parents. He became familiar with fine artworks by attending exhibitions and making routine conversations with parents and their circle since he was young. Those experiences became his foundation to continue education at SMSR Surabaya and then study at the Indonesian Art Institute of Yogyakarta (ISI). When he was in college, he elevated his deeper thinking of art as well as his understanding of it. Not like common artists who sell their products at the market, he believes that the value of art is able to defuse the conflict.
The ideas behind the artworks
The main concept for his masterpiece is based on his own empirical knowledge and community lives around him. Using art as a medium to communicate common social issues, Jafin hopes that his thinking is able to engage more, and his viewers can digest this problem critically. It's normal if he is appreciated due to the beauty, happiness, and entertainment that he brings by his masterpiece. However, Jafin expects more. He wants his artworks to be a medium for education and an information channel for society.

We need to first understand the concepts surrounding Jafin's new artworks. For avid collectors and art insiders, Jafin's artwork is often known to be ladened with subliminal messages reflecting societal issues, contextualisation is paramount in enabling the audience to relate these visuals to a wider context. He uses art as a medium to address prevalent problems within society and further extend them as prompts for his viewers to develop potential resolutions to these issues. Beyond just being a decorative feature of a place, the purpose of artworks is to provoke viewers into critically examining the state of affairs.
#THE S MEDIA
#Media Milenial