CULINARY
HONG KONG, A CULINARY DESTINATION SPRINKLING WITH MICHELIN STARS
Following the launch of new series that featuring the Michelin star chefs.
04.10.2021
BY HANUM FAUZIA
Hong Kong is a paradise for food lovers. It uniquely bridges the gap between East and West, so it's not surprising that fusion food figures highly in its cuisine, with stunning combinations of ingredients and tastes producing unforgettable dining memories.
Hong Kong has been listed as the top culinary destination in a worldwide ranking of food cities, putting it above the usual favorites like Tokyo and Paris. Hong Kong was voted dish of the day, joined by three other Asian cities in the top ten. At the same time, other surprise entries included Athens as the highest European entry at number four and Las Vegas bagging ninth place for the US.
The excellent reputation of Hong Kong as a culinary destination that provides fantastic dishes are getting stronger in 2009 when Michelin Guide started its debut in this city by giving 31 stars at 22 well-known restaurants in Hong Kong. In the night, the Guide created a new movement among culinary lovers, becoming Hong Kong as a port to some best foods in Asia and ambitious chefs to reach their achievements.
"Michelin Guide stands up for Hong Kong culinary to stands out a high standard fo Cantonese cuisine. In 2009, The Guide gave Lung King Heen with three stars of Michelin, where it's the only one and first Chinese restaurant in the world. It helped Cantonese culinary to be part of culinary destination," Nicolas Achard, Managing Director Michelin Food & Beverage Asia, says.
Until now, Lung King Heen still holds three stars, Michelin, concluding Chinese restaurant with a longest winning three stars Michelin in 12 years successively. This uncompromising reward has pushed Lung King Heen. Also, Cantonese dishes have been on the list of the most delicious culinary, adoring culinary lovers by presenting fresh ingredients and cooking techniques to elevate nature taste through steaming, frying, baking, and boiling. These skills can't be learned by night, but also through years of experience under Masterchef.
Michelin Guide not only focuses on Hong Kong culinary excellence but also pushes the culinary world and Hong Kong gastronomy and inspires many of the following young chefs to utilize a chance to experiment with some ingredients and do innovation in the new technique in the kitchen.
Young and ready to take over the world

Chef Vicky Cheng was born in Hong Kong, practicing in management program culinary at George Brown College, Toronto, and returned to Hong Kong in 2011. He built VEA in 2016 and winning the Michelin star in the first year. Vicky Cheng is 36 years old, and he created a new style of fashion concept called "Frenchifying Chinese Food".
The young chefs also pushed to be more creative, proven by the only female chef in Asia, Vicky Lau from Tate Dining Room, who got two stars of Michelin in 2021. Taking the atmosphere of Hong Kong as an inspiration source, Lau has been created the menu "Ode to Fruits", where she focuses on presenting the main ingredients for Chinese culinary. It includes exploring tea, tofu, and salty soy sauce.
Chefs were initially from Hong Kong, like Lau and Cheng that used to be practiced in the cooking technique ala France. They want to give honor to their teacher through an experiment with local ingredients and food products, creating the taste of East that is mixing with West through their dishes. It becomes a simple egg waffle with some ice cream scope, adding chocolate sauce until steaming cake filling with salted egg custard cream, and Cheng cooking grilled sea cucumber over prawn sauce.
Another Cantonese cooked

8 1/2 Otto e Mezzo BOMBANA is the first Italian restaurant and becomes the only one outside Italy that got proven with three stars of Michelin. Head chef of Umberto Bombana has been living in Hong Kong for over three decades. He likes the energy, comfort, and cosmopolitan atmosphere in Hong Kong.

Another popular restaurant is New Punjab Club that has brings Punjabi dishes to the next level. With a menu like tandoori venison watering with fresh mango lassi, this restaurant is also the first Pakistaneese restaurant that Michelin has proved.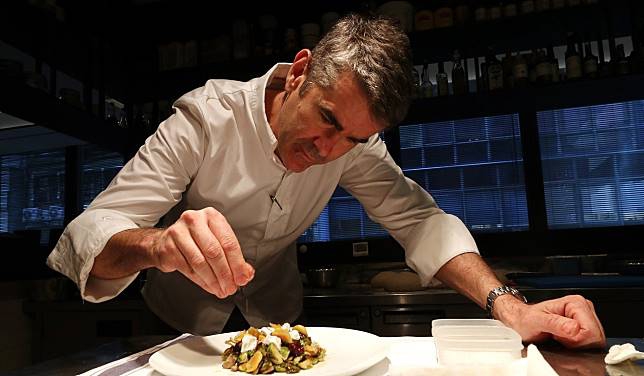 The lively dining atmosphere has been attracted international chefs that have established restaurants in Hong Kong. One of them is chef Shane Osborn, who came to Hong Kong in 2912 and opened St Betty for the first time. Two years later, he opened his place called Arcane, and in 2018 has been proven by Michelin with one star.
"Hong Kong is a very international city with a vibrant culinary culture. People love to explore and try new things, they are very open minded when it comes to restaurants. You can get all kinds of dishes in Hong Kong and for restaurants or chefs, Hong Kong is a very interesting place." said Shane Osborn.
Shane recently formed The Arcane Collective, expanding his restaurant portfolio from Arcane, a one-Michelin star restaurant, to Cornerstone and now Moxie, featuring vegetarian and seafood dishes, at The Landmark.
Street food is driven to be more famous
Hong Kong is known for its fine dining restaurants and restaurants specializing in local food that are suitable for those on a smaller budget or for the adventurous who want to sample the city's hawker stalls. In addition to three-star fine-dining restaurants, Hong Kong also boasts one of its Michelin-acclaimed restaurants at affordable prices. Located in the working neighborhood of Sham Shui Po, Tim Ho Wan is an affordable restaurant that holds the Michelin star title for the 10th year in a row.
Hong Kong is one of the few cities where the Michelin Guide recognizes street food. The Jordan and Yau Ma Tei districts have some of the hawker stalls included in this Michelin Guide. Mak Man Kee Noodle Shop is more than six decades old for noodle connoisseurs and still serves chewy egg noodles with large shrimp wontons. Meanwhile, Kai Kai Dessert is famous for traditional Cantonese desserts such as black sesame soup with freshly ground black sesame ingredients, almond soup, and dumplings filled with black sesame paste.
Sustainable future
In the 2020 edition of the Michelin Guide, Green Stars are awarded to restaurants that "realize and have a mission of sustainability in their day-to-day operations". In Hong Kong, Roganic was awarded the title with this Green Star. Led by top British chef Simon Rogan, he and his team use every part of an ingredient to minimize food waste. The restaurant also grows its spices and vegetables and uses drying and preservation techniques to extend the shelf life of these food products.
As the world of F&B evolves, chefs champion sustainable food methods, starting with preferring to use locally produced ingredients such as yellow chicken, organic vegetables and spices. The focus on a sustainable environment has made local and international visitors more aware of Hong Kong's thriving agricultural sector.
It will be fascinating to see which new restaurants will make it to the 2022 edition of the Michelin Guide. In 2009, Hong Kong was awarded 31 stars for 22 restaurants. Currently, Hong Kong has 95 stars for 69 restaurants, proving that Hong Kong has the talent, experience, and ambition to continue earning Michelin stars.
Despite the pandemic, Hong Kong's culinary tourism has increased, more and more restaurants have opened, and now there are more of them than earlier this year. The city has done an excellent job of keeping local case numbers to single digits in recent months.
With the number of people getting vaccinated, residents are feeling more confident about eating out. This is evident in fine dining restaurants in particular, where diners must order two to three months in advance. When the border opens, there is no doubt that visitors will be spoiled for choice with the many dishes that Hong Kong has to offer.
"Hong Kong Chefs' Playbook", a new series featuring Michelin star chefs and their affinity for Hong Kong, is available to stream now.
#THE S MEDIA
#Media Milenial
#hongkong culinary
#michelin guide at hong kong
LATEST NEWS
We have a vast selection of rolex replica such as the Daytona, Milgauss, Submariner, Explorer, Gmt Master II in http://www.localdlish.com
We have a vast selection of rolex replica such as the Daytona, Milgauss, Submariner, Explorer, Gmt Master II in http://www.localdlish.com
We have a vast selection of rolex replica such as the Daytona, Milgauss, Submariner, Explorer, Gmt Master II in http://www.localdlish.com
We have a vast selection of rolex replica such as the Daytona, Milgauss, Submariner, Explorer, Gmt Master II in http://www.localdlish.com
We have a vast selection of rolex replica such as the Daytona, Milgauss, Submariner, Explorer, Gmt Master II in http://www.localdlish.com
We have a vast selection of rolex replica such as the Daytona, Milgauss, Submariner, Explorer, Gmt Master II in http://www.localdlish.com
We have a vast selection of rolex replica such as the Daytona, Milgauss, Submariner, Explorer, Gmt Master II in http://www.localdlish.com
We have a vast selection of rolex replica such as the Daytona, Milgauss, Submariner, Explorer, Gmt Master II in http://www.localdlish.com
We have a vast selection of rolex replica such as the Daytona, Milgauss, Submariner, Explorer, Gmt Master II in http://www.localdlish.com
We have a vast selection of rolex replica such as the Daytona, Milgauss, Submariner, Explorer, Gmt Master II in http://www.localdlish.com
We have a vast selection of rolex replica such as the Daytona, Milgauss, Submariner, Explorer, Gmt Master II in http://www.localdlish.com
We have a vast selection of rolex replica such as the Daytona, Milgauss, Submariner, Explorer, Gmt Master II in http://www.localdlish.com
We have a vast selection of rolex replica such as the Daytona, Milgauss, Submariner, Explorer, Gmt Master II in http://www.localdlish.com
We have a vast selection of rolex replica such as the Daytona, Milgauss, Submariner, Explorer, Gmt Master II in http://www.localdlish.com
We have a vast selection of rolex replica such as the Daytona, Milgauss, Submariner, Explorer, Gmt Master II in http://www.localdlish.com
We have a vast selection of rolex replica such as the Daytona, Milgauss, Submariner, Explorer, Gmt Master II in http://www.localdlish.com
We have a vast selection of rolex replica such as the Daytona, Milgauss, Submariner, Explorer, Gmt Master II in http://www.localdlish.com
We have a vast selection of rolex replica such as the Daytona, Milgauss, Submariner, Explorer, Gmt Master II in http://www.localdlish.com
We have a vast selection of rolex replica such as the Daytona, Milgauss, Submariner, Explorer, Gmt Master II in http://www.localdlish.com
We have a vast selection of rolex replica such as the Daytona, Milgauss, Submariner, Explorer, Gmt Master II in http://www.localdlish.com