ENTREPRENEURS
FROM CHENNAI TO JAKARTA, HERE IS JANE'S STORY IN BUILDING SIKLUS TO SAVE THE WORLD
Siklus uses technology to reinvent the future of Indonesian retail.
25.09.2021
BY HANUM FAUZIA
When I heard there is a startup that provides refilled consumer goods in reusable packaging, I think that this could finally solve my problem as I consume those things today. I feel bad when I throw away the plastic after using it. But Siklus gives a solution for it.
Talking with Jane gives me such a never-ending insight into sustainability. She started her sustainable journey from Chennai, South India, where she found people there used sachet products for their everyday needs. However, that seemed unfair as the cost per volume was extremely high, and people would spend a significant portion of their income on these. That's a poverty tax like Jane said.

When Jane was researching her Master's thesis on preventing plastic waste in the Philippines, she once again noticed the pollution from sachet products. She also saw these water refill stations in Sari-Sari stores (neighborhood stores) where local people put a coin in, and they get water out. Many low-income customers would use this as a cheaper alternative to bottled water, then she thought, "Why can't we do this for products typically sold in sachets? Like detergent, shampoo, etc."
After graduating from Harvard University in 2019, Jane moved to Indonesia, the second-largest plastic polluter country to the ocean - not knowing anyone - but with the idea of building and supplying refill stations for everyday necessities, and thus the story of Siklus began.
What makes you come to Indonesia and build your startup here?
I think Indonesia is a beautiful country. But the reason why I chose Indonesia is that Indonesia is the second-largest ocean polluter in the world, and the sachets' usage has been centuries. We want to change this and reduce single-use plastic consumption by introducing a refill model to the Indonesians.

Could you please tell me more about Siklus?
Siklus uses technology to reinvent the future of Indonesian retail by selling refilled consumer goods in reusable packaging. Our mobile refill stations travel to lower- to middle-income neighbourhoods, offering refill services for essential products at lower prices by eliminating the cost of single-use plastic packaging. We are usually 20% cheaper compared to purchasing through traditional retail methods.
We can generate cost savings for customers and significant environmental benefits by eliminating single-use plastic sachets through our refill stations, proprietary dispensing technology, and our mobile app that connects customers and FMCG distributors. Consumers quickly order our products by downloading our mobile application that is available on Google Play Store. They also can order by WhatsApp or our social media DMs. Once the order has been taken, our Siklus mobile refill stations deliver the customer's order to their doorstep.
What was your mission when you decided to build Siklus?
We want to change the consumers' behaviour by breaking the habit of using single-use plastic packaging such as sachets. This type of packaging has been used for generations in Indonesia and has become a habit, especially for lower-income consumers. As we know, sachets and pouches are difficult and expensive to be recycled, so in Siklus, we propose a new way to cut the plastic from its source.

How do you advertise your business? And how do you make any collaborate with other parties that support your business goal?
We have fantastic support from our FMCG partners. We got the products without plastic from our partnerships with our FMCG partners, who, like us, are equally passionate about offering a more sustainable way for Indonesians to use and consume daily consumer items. Currently, we are partnering with Wings, Total Chemindo, P&G, Mars, RB, Godrej, and Nestle.
We are just launching our pilot project with Nestle. We provide Milo, Dancow, and Koko Krunch without using single-use plastic packaging and deliver it to our consumers by tricycle.
To get them to work with us, we approached them by email or sent a message to people working at the company/brand and convinced them about the refilled model as the solution to their less waste plan without affecting too much of their production. People nowadays have more awareness about the environmental issue, especially the single-use plastic issue, and companies/brands are currently searching for solutions. Hence, we proposed our refill model to solve them and provide the products without using any single-use plastic packaging.

How many employees does your company have?
We currently have 47 employees working, including the interns. Also, about 30-40 motorists were delivering the refill products to consumers' doors.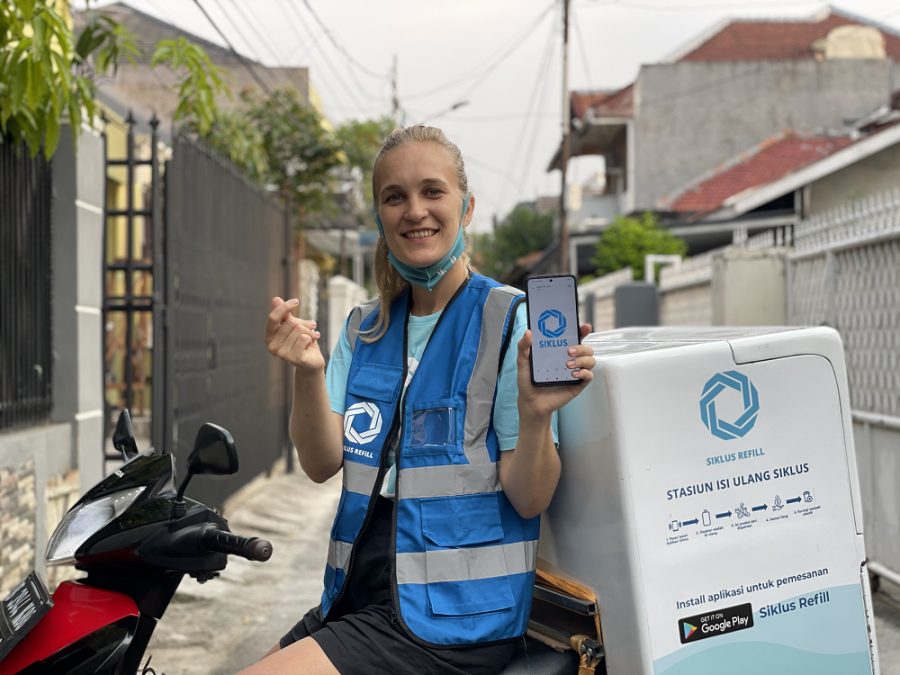 How would you define "sustainable entrepreneurship"?
It's very different from traditional entrepreneurship. Traditional entrepreneurship focuses more on the profit - how we could profit from our business model - etc. But sustainable entrepreneurship concentrates not only on profit but also on the environment and society; the main problem they wanted to solve with their business model is the environmental problem or minimize the negative impact of their business model on the environment. I think people nowadays have realized how important the environment is. There are lots of innovations or business models with dreams and ideas to solve environmental problems.
What are the main trends regarding "sustainability" in businesses?
As I have said before, people nowadays become more aware of the environment and sustainability. And because of that, a lot of businesses have started to focus on sustainability or the environmental impact because of their companies.
I think it's a good sign that companies are listening to what the customers need, and they are trying to reduce the negative impact of their businesses on the environment. But, many companies also did greenwash - when they made a false impression or misleading information that claimed that their products are environmentally friendly, which actually, they didn't. It's a horrible act; they deceived their customers - people who care about the environment.

How is sustainability perceived within businesses?
Initially, businesses care more about profit than the environment or sustainability. But, with the concern for the environment and sustainability, it's also a new phase or challenge for businesses since many traditional business courses didn't teach them about this. Also, implementing sustainability measures usually didn't come with a low price. Like, recycling does need its resources. So the production costs would be higher, resulting in a higher price for customers, which people do like a cheaper product than an expensive one.

Do you consider branding your company as sustainable and attractive for customers?
I don't know if "attractive" is the word, but I do think that having sustainability implemented is also a plus point for businesses. Because like I have said, people have the awareness about sustainability. They have been looking for an alternative, so not only it is attractive to customers, but it also provides a natural solution to those people who care about sustainability and want to do something about it.

How do you think that the perception of sustainability will change in the future? How will it affect the businesses?
I think in the future, sustainability will become a "must-have" in businesses. It will change the way companies work or the way people shop. Sustainability will be everyone's concern.
#THE S MEDIA
#Media Milenial
#siklus
#sustainable entrepreneur
#sustainable startup indonesia