TRAVEL + LEISURE
EMBARKING ON AN UNFORGETTABLE MUSLIM-FRIENDLY JOURNEY IN SINGAPORE: EXPLORING LANDMARKS, HALAL CUISINE, AND CULTURAL BEAUTY
Embarking on a Muslim-Friendly Journey: Exploring Singapore's Cultural Tapestry through Landmarks, Halal Delights, and Rich Heritage
14.11.2023
BY SALMA S.A.
Get ready to embark on an unforgettable journey through the vibrant and diverse life of Singapore. Singapore, the city where tradition meets modernity, is a paradise for travelers seeking a harmonious blend of culture, cuisine, and spirituality. In this enchanting story, we will guide you through the heart of this captivating island nation, revealing hidden gems, iconic landmarks, and delicious halal culinary choices for Muslim travelers. Whether you're an architecture enthusiast admiring historical mosques or a culinary lover craving the tempting flavors of Southeast Asia, let's explore the captivating sights and tastes of Singapore, where every corner has its own story.

Majestic Sultan Mosque
The Sultan Mosque, located in the Kampong Gelam district of Singapore, stands as one of the most recognized places of worship in Southeast Asia. Built in 1824 by Sultan Hussein Shah of Johor, the building underwent significant renovations in the early 20th century to become the iconic structure it is today. The mosque boasts a stunning exterior, and its interior is equally impressive, with spacious prayer halls accommodating up to 5,000 worshippers simultaneously. The Sultan Mosque is open to non-Muslim visitors, offering guided tours providing fascinating insights into the history of Islam and various religious practices free of charge. The mosque's location in Kampong Gelam contributes to its renowned name, serving as a hub for the Malay and Muslim community's social, cultural, and religious activities.

Bustling Geylang Serai Market
Situated in the heart of Geylang Serai, the Geylang Serai Market is one of the largest and liveliest markets in Singapore. This market is a focal point of bustling activities, with traders selling everything from fresh produce to clothing and accessories. One unique aspect of this market is its location in the vibrant Geylang Serai neighborhood, known for its rich cultural heritage. The market is a popular destination for locals and tourists alike, offering a wide variety of food options. Visitors can enjoy an array of dishes, including mee goreng, rojak, roti prata, satay, as well as fresh fruits and vegetables. Geylang Serai Market also offers a diverse range of ready-to-wear commodities such as clothing, jewelry, watches, and other accessories. Visitors can also find traditional Malay fabrics and handmade souvenirs in the surrounding area.

Eternal Arab Street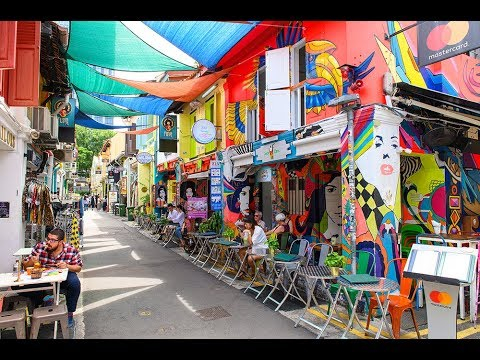 Arab Street, located in the heart of the city, is renowned for its strong Arab and Islamic influence. This location is a popular tourist destination and an excellent place to experience the unique culture of Singapore. Visitors can immerse themselves in the local Malay culture by visiting the nearby Malay Heritage Center. Here, they can learn about the history, traditions, and customs of the Malay community in Singapore.

Beautiful Hajjah Fatimah Mosque
Hajjah Fatimah Mosque is one of the most iconic landmarks in Singapore. Located in the Kampong Gelam area, the mosque was built in memory of Hajjah Fatimah, a wealthy Arab woman who made significant contributions to the Muslim community in Singapore in the early 1800s. The mosque's architecture is a beautiful blend of traditional Islamic and Malay influences, reflecting the rich cultural heritage of the region. The mosque plays a vital role in promoting harmony and tolerance among religions. It organizes various educational programs such as tours, workshops, and seminars to encourage dialogue and understanding between different religious communities. The mosque's interior is equally enchanting, with a spacious prayer hall that can accommodate up to 1,200 worshippers. The mosque also features classrooms, a library, and a conference room used for community events and Islamic teachings. The tall minaret of the mosque symbolizes its significance in the mosque and the surrounding community.

Artful Mustafa Center
Mustafa Center is known for its wide range of products, from fashion to food, catering to the needs of the Muslim community and beyond. The intricate Arab calligraphy and Islamic motifs in the store's interior add to the vibrant and Muslim-friendly atmosphere of Mustafa Center. One of the main attractions of Mustafa Center is its offering of various products for the needs of Muslim visitors. In addition to being a one-stop-shop for daily necessities, the food section also showcases a variety of traditional Muslim dishes from countries such as Malaysia, Indonesia, and India. The fashion section at Mustafa Center features a diverse range of clothing inspired by Islamic fashion trends, available for both men and women.

Halal Cuisine in Singapore
Singapore's culinary richness welcomes all tastes and preferences, and for those seeking a halal dining experience, the city offers tempting options. The journey through Singapore's halal gastronomy begins with Hajah Maimunah, an award-winning Michelin Guide Bib Gourmand restaurant located in Kampong Gelam. Known for authentic Malay and Indonesian cuisine, this culinary icon promises a delightful dining experience with classic dishes such as Rendang and Ayam Bakar, making it a must-visit for those seeking an unforgettable halal dining experience.

Next is The Malayan Council on Arab Street, showcasing a fusion of traditional Malay recipes with modern culinary techniques, offering dishes like Nasi Lemak Tower—a testament to the evolving halal culinary landscape in Singapore. For dessert enthusiasts, The Fabulous Baker Boy, located in Fort Canning Park, serves delicious cakes and food options in a serene atmosphere. Lastly, Fluff Bakery on Jalan Pisang is a hidden gem for cupcake lovers, renowned for its unique flavors and beautiful designs, all made with certified halal ingredients. These places illustrate Singapore's commitment to providing a world-class halal culinary experience, inviting locals and visitors to enjoy a diverse range of halal cuisine in the city.

From beautiful mosques to traditional markets and the Museum of Islamic Art, Singapore offers a lot for Muslim visitors. You can download the Muslim Visitor Guide from the official visitsingapore.com website for inspiration and guidance on vacationing in Singapore, covering halal food, religious sites, and various other exciting experiences. Visit Singapore now and bring your dreams to life through a range of new and innovative experiences in Singapore! You can also explore various packages and attractive offers through visitsingapore.com and the opportunity to get free activities with SingapoRewards.
#THE S MEDIA
#Media Milenial
#Singapore
#Muslim-Friendly Trip
#Cultural Exploration
#Landmarks
#Halal Cuisine
#Heritage
#Kampong Gelam
#Geylang Serai Market
#Arab Street
#Mustafa Center
#Hajjah Fatimah Mosque
#Travel Experience
#Southeast Asia
#Culinary Adventure
#Hidden Gems
#Iconic Destinations
#Cultural Diversity
#Singapore Tourism
#Tourism Experience
#Authentic Cuisine
#Cultural Heritage
#Singapore Landmarks
#Cultural Landscapes
#Travel Insights