TRAVEL + LEISURE
CELEBRATING LOVE ON A PRIVATE ISLAND
Experience the wedding of your dreams in paradise surrounded by nature.
03.05.2021
BY JORDI HILDIANTO
You are now one step ahead. After getting engaged with your loved one, what's next? Sometimes, arranging weddings becomes stressful and exhausting. To simplify your wedding planning process, the team at Bawah has carefully crafted five different wedding collections, each highlighting the many choices of on-island venues and ambiance available.
Couples need only worry about inviting their wedding party to celebrate the special day and the team at Bawah will ensure everyone experiences unparalleled service and relaxation surrounded by the spectacular natural atmosphere that provides these secluded islands with their charm.
An unimaginable place for wedding destination
Both sustainable and an idyllic hideaway, Bawah Reserve located in the remote Anambas Islands in Indonesia, embodies uninhabited island romance and offers countless experiences created with love in mind. Entirely enveloped in untouched nature, this is an ideal paradise for destination weddings.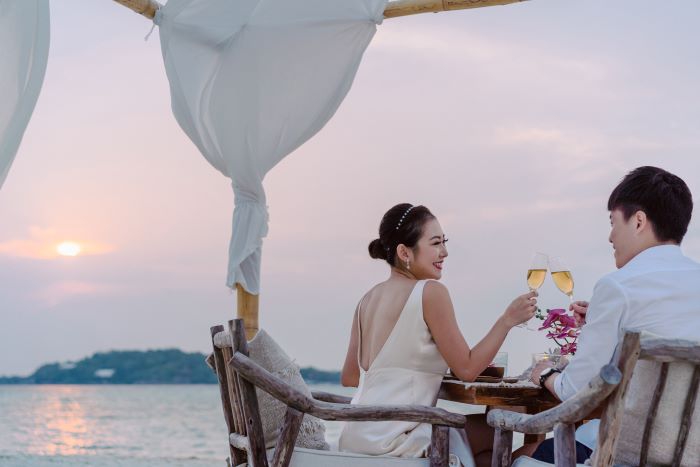 A wedding at Bawah Reserve allows couples to give their guests the gift of a spectacular holiday in concert with the celebration of their union. Couples will enjoy a worry-free wedding and spend quality time with friends and family, enjoying delectable meals, nature activities, and restorative spa treatments, all included in the daily rate.
Wedding Collections
They have a variety of signature wedding and vow renewal experiences that make your dream wedding come true. Coral is perfect for couples who want to elope and get away from it all. The Coral Collection is exclusively offered for wedding couples, including three nights in an Overwater Bungalow, an Aura Spa Explorer Experience, a private island dinner with a personal chef and servers, a bottle of wine, and a single-tier wedding cake.
Venues at Bawah Reserve
While enjoying local seafood in the Anambas Islands, feel free to relax into an effortless vibe that will see you and your guests well into the night. The Boat House is the best place indeed, where it is located in a prime oceanfront setting directly on the beach. With powdery sand underfoot and a handcrafted tropical palm arbor framing the scene, you and your partner will be married as the sound of gentle waves lap the shore.
Venues at Elang Private Residence
This year Bawah will unveil brand-new and exclusive accommodations on Elang, a neighboring and previously untouched island owned by Bawah Reserve. Elang Private Residence will be adults only and offers the ultimate private island experience, featuring six sustainably-minded cliffside lodges made from recycled natural materials. The Beach House is breathtaking views of the azure sea and nearby Lidi Island as you say your vows on a pristine private beach surrounded by loved ones.
There are still many wedding options you can choose that fit you on this award-winning resort.
#THE S MEDIA
#Media Milenial