TECHNOLOGY
CAKAP SECURES $10M INVESTMENT FROM TELKOM IN LATEST INDONESIAN EDTECH BREAKTHROUGH
Will Cakap be Indonesia's next unicorn, and how is the education tech sector in the country doing?
18.12.2021
BY STOHUNT FAU
Cakap, an Indonesian education tech startup, raised US$10 million (around Rp143 billion) in a Series B round led by Heritas Capital and the Centauri Fund — a managed fund formed by MDI Ventures and KB Investment Group — with further participation from KB Investment and several other investors whose identities were not disclosed.

The fresh funds obtained by Cakap will be used to improve machine learning and artificial intelligence technologies that support the personalization of teaching and learning activities for each student.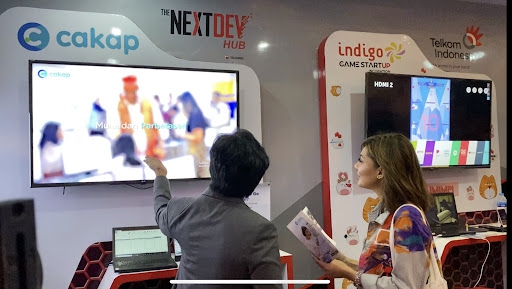 With the inclusion of MDI Ventures as an investor, Cakap will synergize with telecommunications operator Telkom to accelerate market expansion in Indonesia. Cakap will also utilize the experience of KB Financial Group as a financial service provider to support the company's growth strategy.

The startup, founded in 2014 by Tommy Yunus, offers interactive foreign language learning services with a subscription model. In addition to providing learning for students, the company also launched human resource development initiatives, self-learning features, and certification courses to support career and employment needs.

Cakap's co-founder and CEO, Tomy Yunus, explained that his company is still learning about students' unique habits or behaviors to develop AI and machine learning technologies that are more local and personal.

Cakap last received funding at the end of 2020 in a Series A+ round. At that time, Cakap pocketed funds worth $3 million (approximately Rp 42 billion) led by Heritas Venture Fund.

Since the Covid-19 pandemic, Cakap has actively collaborated with the Indonesian government to provide English language courses for tourism businesses and MSMEs affected by the pandemic.

The state of edtech in Indonesia

Indonesian edtech products generally aim at helping students with learning and upskilling, helping educators with student management, communication, and teaching, and helping educational institutions with administration.

Notable examples such as Ruangguru, Zenius, Quipper provide self-directed e-learning content, interactive learning platforms, and study tools that help students expedite the learning process, along with interactive online services that help students with their assignments and assist them in preparing for tests.

Their presence aims to address the disparity of education in Indonesia, a classic problem requiring a creative and innovative solution, given that Indonesia was ranked 110th out of 188 countries in the Human Development Index (HDI) in 2015, indicating the level of quality and access to education in Indonesia is still far from equal.
Meanwhile, internet and smartphone penetration in Indonesia is increasing, which creates an opportunity to deliver well-developed educational content for Indonesian children. Therefore, these startups aim to use internet and smartphone technology optimally to expand access to education as a whole.

Edtech startups are also joined by creative industries outside the sector. For example, Arsanesia, a game development company from Bandung, created Arsa Kids, a new business that makes educational content for children through edugames that provide learning methods, visuals, animations, and two-way communications that motivate them to learn.

When it comes to experience, Arsanesia is not exactly new to this. Pippo Learning Alphabet, a sister company of Arsa Kids, won the "Intel Education Apps and Games Challenge", a challenge organized by Dicoding and Intel Indonesia in 2015. Among their notable creations is Pippo Learn Shapes, a game that introduces various shapes in a fun way for preschoolers.

As a business unit that specifically develops educational content, Arsa Kids' target is to launch one new edugame title every month for both Android and iOS platforms. They believe that proper use of technology will positively impact children and advance their education.

"Our responsibility as a developer is to produce the best educational content for Indonesian children through attractive edugames," said Adam Ardisasmita, CEO of Arsanesia, adding that their games are aimed not only to provide educational content but also to help children's emotional development.
#THE S MEDIA
#Media Milenial
#cakap gets fund from telkom
#edtech in indonesia
#startup in indonesia