FASHION + WATCHES
8 TRADITIONAL WOVEN FABRICS THAT MAKE YOU AMAZED
Indonesia is a kind of the richest diverse culture. 
31.07.2021
BY HANUM FAUZIA
Indonesia is a kind of the richest diverse culture. Thus make Indonesia has a variety of its signature clothing from handmade woven fabrics across Indonesia.
Woven fabrics are generally made from wood fiber, cotton fiber, and silk. Each region has its theme, and the manufacturing process is pretty modest.
Before weaving, the material needs to be colored first by dipping it in natural dyes. The fabrics are horizontally inserted into the warp threads that arrange in parallel and tied at both ends.
Kinds of woven fabrics in Indonesia
Tenun Lurik
Tenun lurik is from Central Java, Solo, and Yogyakarta. Beforehand, tenun lurik made from non-machines, but in a while, some make it using machines. Tenun lurik has a striped motif with a solid color.

Tenun Ulos
Ulos comes from North Sumatra. Until now, Ulos is used for any formal moments. Ulos is used as a shawl or sarong in Batak's culture. Ulos has a characteristic colors, like black, brown, red, gold, and silver.

Tenun Sumba
The manufacturing of tenun Sumba takes a very long time, from 4 months to years. Tenun Sumba also has a variety of motifs, meanings, and is mainly inspired by animals.

Tenun Toraja
Tenun Toraja has a motif that reflects the beauty of Toraja. Tenun Toraja is also used to reflects the social status of its locals and used for formal ceremonies.

Tenun Ikat Troso
Tenun Ikat Troso comes from village of Troso, Jepara. It has a variety of motifs, from super ethic and traditional to modern and contemporary looks.

Tenun Siak
Tenun Siak also well-known as Songket Siak. It comes from Riau. Fun fact, formerly, Tenun Siak only be used by the Siak nobles. Tenun Siak has the characteristic of plant and animal motifs.

Tenun Garut and Sukabumi
This originates from West Java which has a characteristic geometric motif.

Tenun Baduy
Tenun Baduy comes from Banten. This fabric has the complexity of its motifs that are inspired by nature.
Kain Endek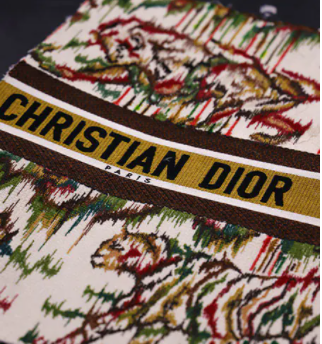 Kain Endek – made by hand by weavers in Bali, reflecting an infinitely precious savoir-faire. This extremely refined, exceptional craftsmanship is a language in itself, a way of expressing and affirming femininity that resonates more than ever given the committed philosophy upheld by the Creative Director of Dior women's collections. An approach of solidarity, and a captivating dialogue between Dior and Indonesian craftswomen celebrate excellence and allow this unique heritage to radiate around the world.
How to care for non-machine woven fabrics
Handling non-machine woven fabric is easy peasy to do. We recommend using a mild detergent. If necessary, use lerak soap (cleaner for batik fabric).
You don't need to soak it overnight, just rub it gently. If you are on a first trial, it's better to wash them separately, so the colors don't fade or hit other clothes. In the drying process, it's not recommended to dry in direct of the sun as it potentials to damage the paint of the fabrics.
After drying, you can iron it to make it neat. Try to iron only on the inside of the fabric so the color is not damaged. If you find any stains, re-dye the material with the same color on the stained area.
#THE S MEDIA
#Media Milenial
#tenun ikat
#traditional woven fabrics
#non-machine woven fabrics
LATEST NEWS
We have a vast selection of rolex replica such as the Daytona, Milgauss, Submariner, Explorer, Gmt Master II in http://www.localdlish.com
We have a vast selection of rolex replica such as the Daytona, Milgauss, Submariner, Explorer, Gmt Master II in http://www.localdlish.com
We have a vast selection of rolex replica such as the Daytona, Milgauss, Submariner, Explorer, Gmt Master II in http://www.localdlish.com
We have a vast selection of rolex replica such as the Daytona, Milgauss, Submariner, Explorer, Gmt Master II in http://www.localdlish.com
We have a vast selection of rolex replica such as the Daytona, Milgauss, Submariner, Explorer, Gmt Master II in http://www.localdlish.com
We have a vast selection of rolex replica such as the Daytona, Milgauss, Submariner, Explorer, Gmt Master II in http://www.localdlish.com
We have a vast selection of rolex replica such as the Daytona, Milgauss, Submariner, Explorer, Gmt Master II in http://www.localdlish.com
We have a vast selection of rolex replica such as the Daytona, Milgauss, Submariner, Explorer, Gmt Master II in http://www.localdlish.com
We have a vast selection of rolex replica such as the Daytona, Milgauss, Submariner, Explorer, Gmt Master II in http://www.localdlish.com
We have a vast selection of rolex replica such as the Daytona, Milgauss, Submariner, Explorer, Gmt Master II in http://www.localdlish.com
We have a vast selection of rolex replica such as the Daytona, Milgauss, Submariner, Explorer, Gmt Master II in http://www.localdlish.com
We have a vast selection of rolex replica such as the Daytona, Milgauss, Submariner, Explorer, Gmt Master II in http://www.localdlish.com
We have a vast selection of rolex replica such as the Daytona, Milgauss, Submariner, Explorer, Gmt Master II in http://www.localdlish.com
We have a vast selection of rolex replica such as the Daytona, Milgauss, Submariner, Explorer, Gmt Master II in http://www.localdlish.com
We have a vast selection of rolex replica such as the Daytona, Milgauss, Submariner, Explorer, Gmt Master II in http://www.localdlish.com
We have a vast selection of rolex replica such as the Daytona, Milgauss, Submariner, Explorer, Gmt Master II in http://www.localdlish.com
We have a vast selection of rolex replica such as the Daytona, Milgauss, Submariner, Explorer, Gmt Master II in http://www.localdlish.com
We have a vast selection of rolex replica such as the Daytona, Milgauss, Submariner, Explorer, Gmt Master II in http://www.localdlish.com
We have a vast selection of rolex replica such as the Daytona, Milgauss, Submariner, Explorer, Gmt Master II in http://www.localdlish.com
We have a vast selection of rolex replica such as the Daytona, Milgauss, Submariner, Explorer, Gmt Master II in http://www.localdlish.com