SPEED + BEYOND
BMW SHOWS THE E-SCOOTER CONCEPT FOR INDIVIDUAL MOBILITY
BMW Dynamic Cargo and Clever Commute e-scooter offer mobility for urban communities.
28.07.2021
BY A. NUGROHO
Recently, traffic problems have become a common sight in big cities. The need for high mobility for urban residents makes the streets filled with various kinds of vehicles.
The BMW Group as a provider of premium transportation products provides exciting ideas for individual movement. BMW introduced the Dynamic Cargo concept and the Clever Commute Concept e-scooter to answer the mobility needs of urban residents.
The BMW Group has previously demonstrated individual vehicle concepts for micromobility through the Motorrad X2City, Personal Mover Concept, and Vision E3 Way. Dynamic Cargo and the Concept Clever Commute show the design direction of manufacturers who usually make larger transport models.
Dynamic Cargo design resembles a scooter in general but with three wheels. The design is compact and offers flexibility, agility for urban use and reliability in various road conditions.
There is a platform that can be used for various functions at the back, including to transport goods and carry children and necessities while on vacation.
The pedal bike offers a wide range of uses and produces zero emissions. Its use is also easy, fast and efficient when used in urban areas. But when it rains, many choose to use public or private transportation. Likewise, when you need to carry a lot of stuff, cyclists will be bothered by various accessories attached to their bikes. In the end, this adds to the burden and dimensions that bicycle owners must pay attention to if they want to take their bicycles on public transportation.
"Our goal was to develop a concept that retains the agility and driving feel of a normal bicycle while adding innovative, safe transport options," says Jochen Karg, Head of Vehicle Concepts in the BMW Group's New Technologies and China division.
"The 'Concept Dynamic Cargo' is the first dynamic 'pick-up' cargo bike that combines driving pleasure with flexible use and increased year-round suitability."
The primary key of this Dynamic Cargo concept is in the front of the mainframe, which is connected to the rear via a pivot axle that can move sideways when cornering. The end is stable in various road conditions.
This ability is then combined with an electric motor that activates instantly when the rider steps on the pedal. Does not require readjustment because it is like using a regular bicycle.
This bike can be fitted with a selection of innovative modular attachments for carrying luggage and/or children. The modular design principle paves the way for many more use cases, too. The non-pivoting design of the transport platform has the additional benefit that the rider is barely aware of any extra weight being carried, enabling safe, stable transportation of all loads while also ensuring a pleasurable riding experience.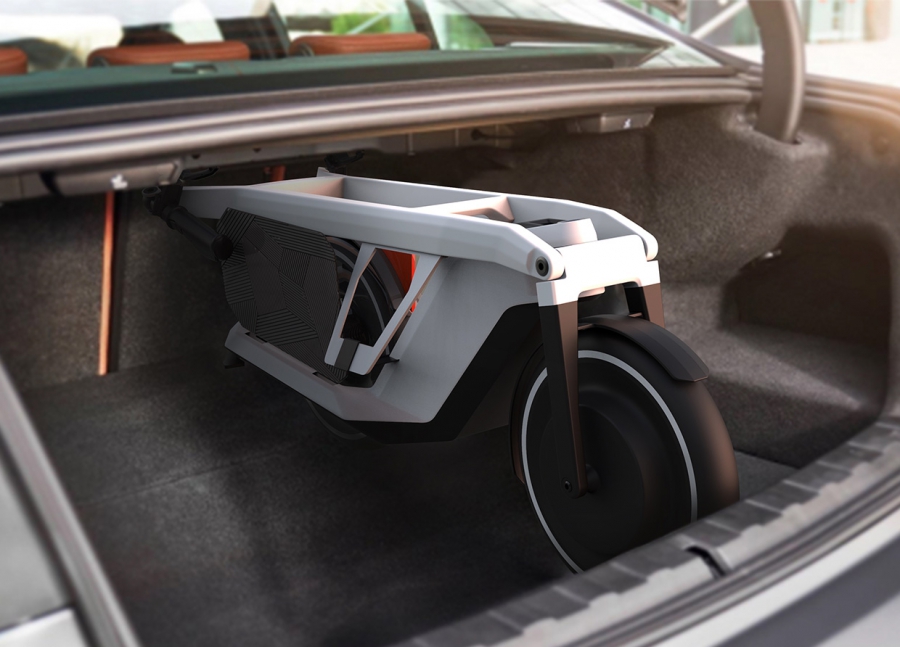 Switch to the Clever Commute concept. Just like Dynamic Cargo, this concept aims to make it easier for humans to move with an ergonomic design, riding stability and compact size for everyday use.
When viewed, the shape resembles a scooter which is usually moved with the help of a foot push. However, this scooter is paired with an electric motor to move quickly and reach long distances.
The scooter can be folded and taken into public transport or a car without being bothered by its bulky size and weight. The mechanism for folding is also easy where the footboard can be folded to the side and shorten the wheelbase distance.
Regarding whether the Clever Commute concept can be produced, the BMW Group revealed that they are looking for parties interested in cooperating or purchasing a license for this product.
Both micromobility concepts have been designed so that the electric range can be scaled concerning the respective application. One final essential feature for city use is the battery pack, which can be removed and charged at home.
#THE S MEDIA
#Media Milenial
#bmw e-scooter concepts
#bmw clever commute
#bmw dynamic cargo
#e-scooter range bmw
#bmw electric scooter
#bmw cargo bike
#bmw electric
#bmw e bike