CULINARY
7 MUST-TRY LOCAL CULINARY DELIGHTS FROM KEDIRI
From soto ayam to balungan pecok, these are 7 must-try local culinary delights from Kediri.
16.09.2021
BY HANUM FAUZIA
Kediri is not only about cigarettes. It has so many culinary destinations that are ready to shake your tongue.
Kediri is well-known as a Tofu City that obviously becomes its signature. But have you tried their local culinary delights featured on the list below?
Soto Ayam Depot Podjok Kediri (chicken soup)
This is one of the legendary restaurants in Kediri. The location is on the right at the corner of the intersection of the shops of Jalan Dhoho, Kediri. It was established in 1926 and always crowd until now.
This soto uses a family heritage recipe from Yogyakarta that is clear, thick, and fresh. They use chicken as a topping, sprinkled with sprouts and celery. For complement, you can eat together with offal, salted eggs, and fried tofu or tempeh. One portion is priced around Rp15.000.
Nasi Pecel Sambal Tumpang
Kediri is a city that has a lot of food destinations that you really must try, one of which is pecel. It is a food that is familiar to the tongue of Indonesian. It's relatively cheap but full of addiction.
Kediri has its own style in serving Pecel. It uses fermented tempeh for its sauce (sambal). One of you must try Nasi Pecel Bu Darmo, located on Jl. Banjaran 1 No.139-141, Kediri. Nasi Pecel Bu Darmo is open from 05.00 WIB to 11.00 WIB, perfect for those of you who are looking for breakfast.
Bu Darmo's pecel is a legendary pecel stall in Kediri, no wonder those of you who visit here will definitely see a queue of buyers who are always busy queuing up. This stall, which has been open since 1974, costs a portion of their nasi pecel starting at Rp5,000. You can already enjoy nasi pecel or rice overlapping, complete with crispy and savory peanut brittle.

Sate Pak Siboen Kediri
This culinary destination was established in 1937, has attracted the attention of local people to try the typical Ponorogo satay. Its chicken satay has an elongated cut, with smooth peanut sauce that is smoother and tastier. The secret of this satay comes from the chicken meat that they used. Mr. Siboen uses free-range chicken or ayam kampung to make his satay.
Mrs. Eko's Restaurant
This restaurant provides a special menu: garang asem. Garang asem uses chicken or beef mixed with a lot of pieces, like green chili, green cayenne, galangal, tomato, and starfruit. This food is then wrapped in banana leaves and then steamed until cooked. Garang Asem is very suitable to be eaten with warm rice.
Kedai Ketan Stadion Brawijaya Kediri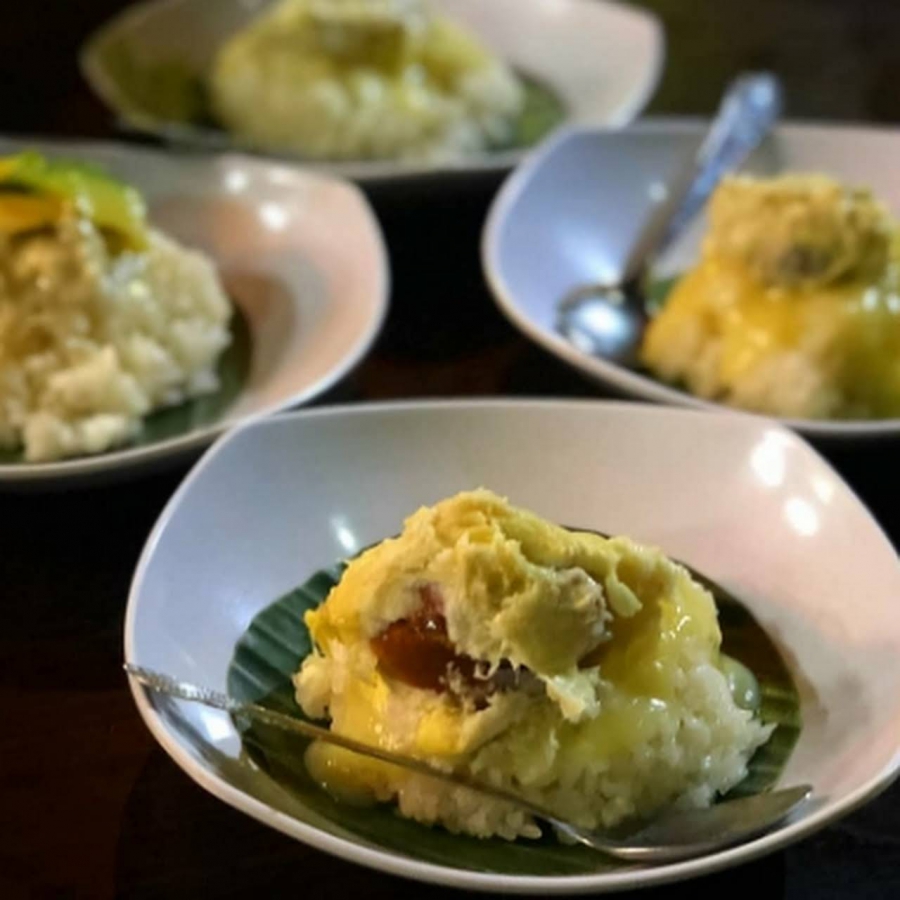 Local people like this place so much. You can order various coconut sticky rice with your favorite topping. The best-seller menu is sticky rice with durian and banana split. Another choice is coconut sticky rice with juruh powder, if you like the traditional's version.
Balungan Pecok Pedas
It is located at Jl. Kusuma Bangsa Heroes, Banjaran, Kediri. Balungan pecok is one of the food stalls that provides a menu of spicy ribs and bone marrow or sengkel. Both of these foods are favorites for visitors to this restaurant.
The fresh taste of the spicy mixed sauce is served with coconut milk to produce a savory and delicious taste. They give you a straw to enjoy the delicious marrow meat.
Depot Wilis Kediri
Depot Wilis Kediri serves a variety of Indonesian specialities at affordable prices. Almost all the menus sold at this depot have good taste and have different characteristics from other depots. Their best seller menu is rawon with a rich flavored sauce plus tender meat as a side dish.
Various menus are sold, such as rawon oxtail, oxtail soup, fried ribs, chicken curry rice, fried chicken rice and other menus. It is located at Jl. Panglima Sudirman No. 41, Ringin Anom, Kediri City.
#THE S MEDIA
#Media Milenial
#culinary from kediri