TECHNOLOGY
FUTURE AIRCRAFT SEATS FOR ECONOMY FLIER
An inspiration to renew airplane cabins with double-decker lie-flat seats in the premium economy
20.04.2021
BY HANUM FAUZIA
Who knows that pandemic gives Jeffrey O'Neill, the founder and CEO of start-up Zephyr Aerospace, an inspiration to renew airplane cabins with double-decker lie-flat seats in the premium economy? The solution offered by O'Neil is boasted as a possible answer for fliers looking for extra protection from the spread of Covid-19, or perhaps this design could be the best airplane seat for the future.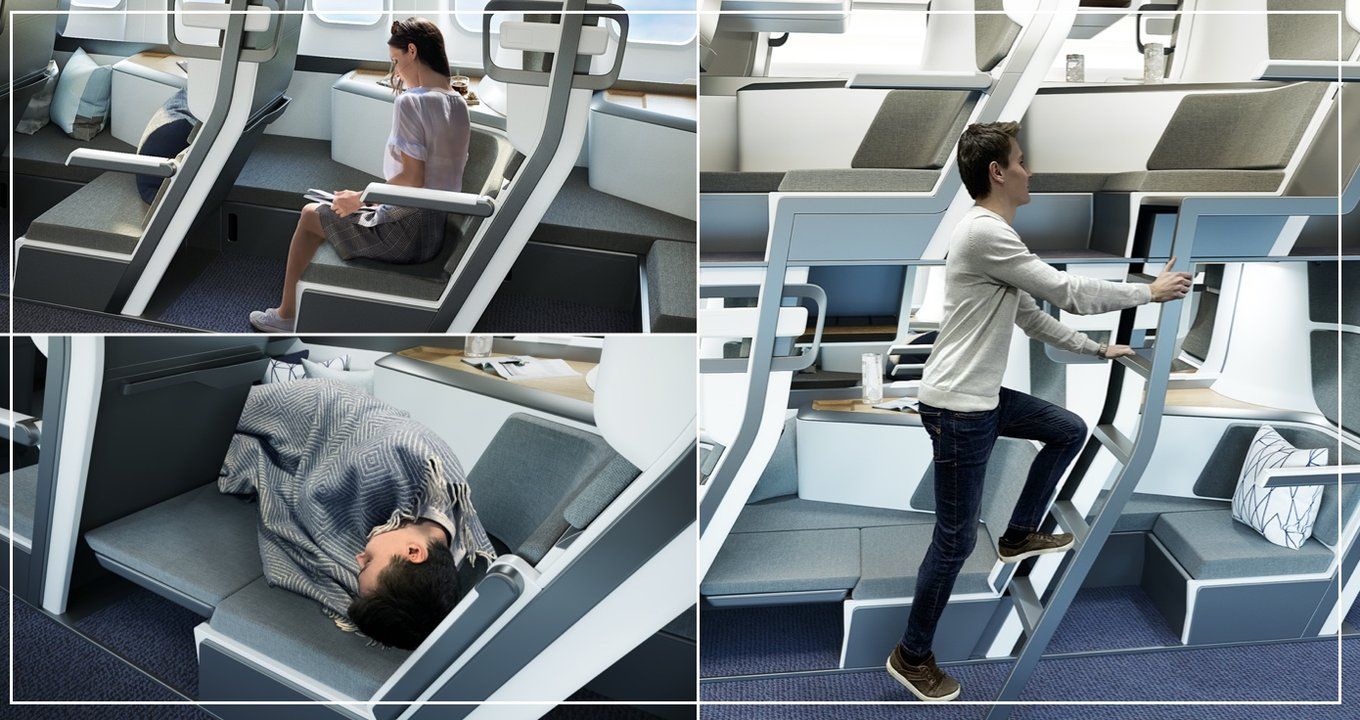 Inspired by his own experience where he was unable to rest comfortably on the flight between New York to Singapore a few years ago, O'Neill believes that travelers in the future expect a private space for undisturbed sleep. Called the Zephyr Seat, he designs double-decker seating in a 2-4-2 configuration that authorizes the majority of airlines in the world to keep the same seating density as proposed by their existing premium economy cabins.
As he remembered when he was on a long-distance bus journey through Argentina, the bus offers bunk beds, and he'd slept far better than on his ostensibly more luxurious air journey to Singapore. Then he thought, why not implement this to aircraft seats?
Behind the story of double-decker seating

Zephyr's double-decker idea exploits the existing space between a standard seat and an overhead bin.
"We retrofitted whole other seats on top of another," said O'Neill.
It provided more free space for passenger's legs without the airline being forced to sacrifice space or reduce passenger headcount.
Although the idea is still on draft, O'Neill pitched the idea to airline executives at the 2019 Airline Interiors Expo in Hamburg, Germany, and had some valuable feedback on how to make the seat a feasible option for the mid-range aviation market. The next stage would be passing the product through the required safety tests, which could be a three-year process.
Looking forward to new opportunities

This encompasses aviation's future, particularly, seeing the spreading of covid-19. Noticing that there will be a great demand of having onboard social distancing between passengers, O'Neill assumed Zephyr Seat fits with the new aviation landscape.
O'Neill also predicted that there would be fewer scheduled flights, and those that are operating could be busier and more expensive, which is already happening at this moment.
"The price for a business class or first class seat is going to be out of range for probably about 85% of all travelers, which means a more affordable option might become a reality or a consideration for a lot of those people," he says.
#THE S MEDIA
#Media Milenial