TRAVEL + LEISURE
THE NEW KATHRINE POOLEY WEBSITE SHOWCASES 12 NEVER-BEFORE-SEEN DESIGN PROJECTS
Those 12 new projects are ranging in scale and style from traditional rural residences to contemporary urban mansions.
30.09.2021
BY SYIFA
One of the most respected, creative, and original British luxury interior designers, Katharine Pooley, launched her new website that showcases twelve never-before-seen design projects.
The new website highlighted her impressive portfolio. There are twelve breathtaking new projects from futuristic hotels, luxury spas, beach villas, palaces, castles, ski chalets, to yachts, and they range in scale and style from traditional rural residences to contemporary urban mansions.
"I am so proud to unveil this extraordinary website, featuring many of my design projects, twelve of which have never been seen before. Every design journey I undertake is of great personal and emotional value; each client relationship I build inspires me afresh. I hope you will let my new website transport and inspire you, as each of these projects has inspired me," Katharine said.
Distinctive and stunning designs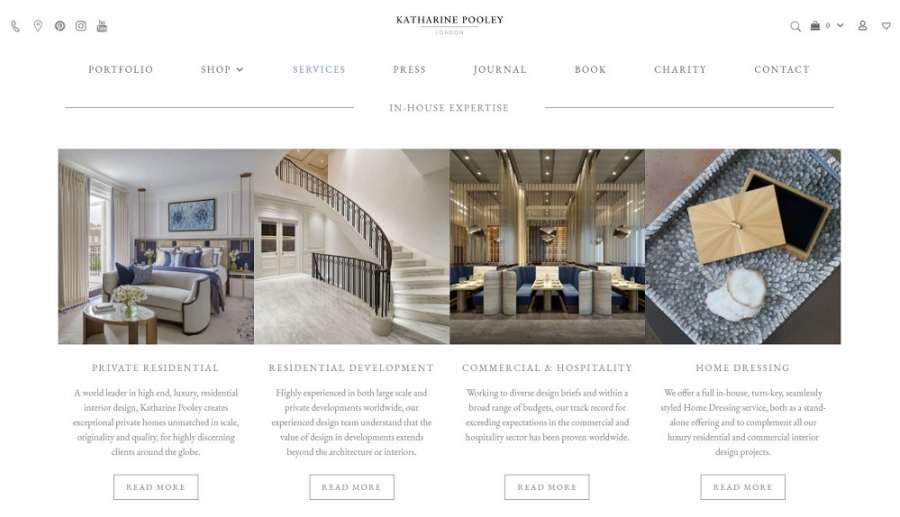 Katharine's design concept is both infinite and genre-free. This multi-faceted approach is reflected in Katharine's new website, which includes photos and video footage of her projects, demonstrating the precise and opulent craftsmanship for which she is known.
The design of each interior and accessory is inspired by a kaleidoscope of sources, including the natural world, fashion, architecture, and art, but most importantly, Katharine's travels. All parts of Katharine's interiors are underpinned by her daring approach to life and intuitive sense of adventure, resulting in really ground-breaking, adventurous designs.
Take a look into the world of luxury interior design as you've never seen it before. View a bustling London design studio and the life and travels of a prominent design genius through this elegantly crafted porthole, while immersing yourself in distinctive, original architectural and interior designs developed in some of the world's most stunning structures and most exclusive addresses.
The Katharine Pooley website's new 'Journal' platform, which will be constantly updated by Katharine to reflect her passions, design ideas, advice, and trends, allows visitors to immerse themselves in Katharine's world.
Accessories collection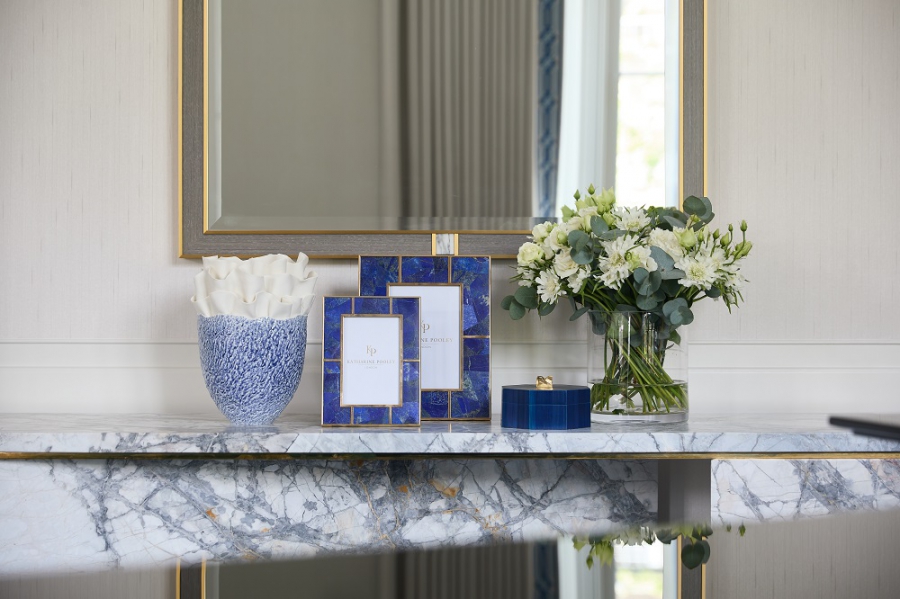 Katharine also introduces a new and dedicated e-commerce section of the website, as she is passionate about collecting talismans from her global trips as well as rare artifacts from exotic cultures. This will be in tune with the treasures and iconic items that have made her eponymous Knightsbridge Boutique a must-visit for anyone looking for unique and opulent home décor.
The website debuts a new "Autumn Accessory Edit" which includes twelve accessories, objects, and works of art. The Autumn Edit, curated by Katharine, includes lapis lazuli, handcrafted porcelain, straw marquetry, and shagreen accents. Katharine's interior and architectural designs are as gorgeous as the craftsmanship and application of exquisite finishes in every piece.
Katharine Pooley established her business over 18 years ago. Katharine's London-based luxury interior design studio is recognized globally for her innovative designs and exquisite, award-winning spaces, having been named "British Interior Designer of the Decade," "International Designer of the Year, Asia," one of "The 50 Finest Interior Designers," and most recently awarded the "Best Luxury Residence London 2021" at the International Design and Architecture Awards.
Katharine's personal approach ensures that every element of every project and product is wonderfully realized and impeccably finished, as she supervises a staff of 47 interior designers and interior architects. The studio's concept is upon customer loyalty, rigorous attention to detail, and the development of beautiful, one-of-a-kind settings.
#THE S MEDIA
#Media Milenial
#Katharine Pooley
#Interior Design
#Luxury Design