ART + CULTURE
5 INFLUENTIAL INDONESIAN CONTEMPORARY ARTISTS 2021
Gazing Indonesian culture through the eyes of local multi-talented artists will give us life-changing insights.
23.04.2021
BY HANUM FAUZIA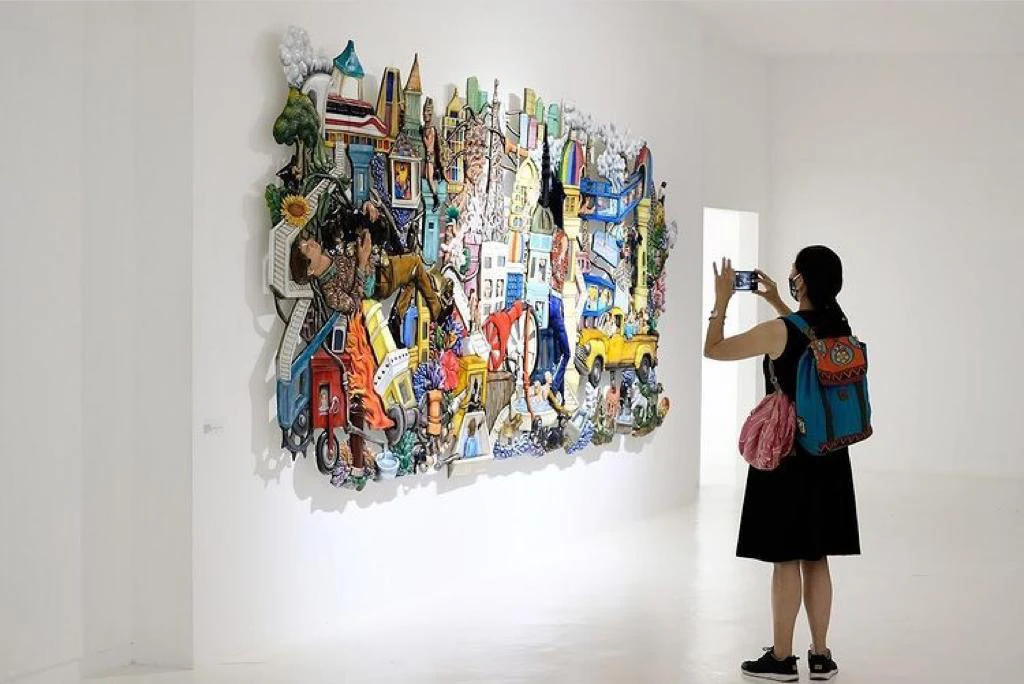 Indonesia is the most colorful country with its multicultural diversity and urban society that is standing side-by-side, which able to generate unrivaled contemporary art that is fresh and energetic. Some local multi-talented artists can present life-changing insights through their masterpieces. Find out the most favorite Indonesian contemporary artists that can elevate Indonesia on the international stage by expressing their views on canvas.
I Nyoman Masriadi
Masriadi was the artist's maiden solo show at the Singapore Art Museum and spanned Masriadi's 10-year career, exploring the evolution of his signature black-skinned figures, a motif now widely copied by other Indonesian painters. In the early 2000s, Indonesian painter Nyoman Masriadi was just a few years out of art school and still honing his style and technique. He was already widely regarded as a promising talent, and his works were typically selling at local auctions in Indonesia for about $10,000. But no one could have predicted the explosion of international interest and demand touched off later in the decade after Christie's and Sotheby's began putting Masriadi's work in their Southeast Asian art sales in Hong Kong and Singapore, respectively. Nyoman Masriadi's Dark Satire of Indonesian Culture Finds a Global Audience.
Lugas Syllabus
Lugas Syllabus is a contemporary artist who lives and works in Yogyakarta, Indonesia. He is widely known for his paintings and sculptures that address the ironies and contradictions in modern and contemporary society. Woven into his pieces are narratives and iconography from pop culture, media and technology; coupled with memories and folklore. As part of the DISINI festival in Gillman Barracks from January to September 2018, Lugas used a rabbit-dragon hybrid to illustrate risk and how one cannot always wait for the perfect timing, but sometimes must dare to jump in to achieve results. Inspired by the action sequences depicted through the panels of comic books, he created a dynamic sculpture called Catch Yourself If You Can.

Soni Irawan
As an artist with formal art education and as a musician, (he was one of the founders of Yogyakarta experimental band Seek Six Sick), Soni Irawan has a different approach to create his artworks.
His art is greatly influenced by the spirit and energy of rock music, but also his printmaking background, especially in the creation of woodcut prints. His paintings on canvas or wood pieces are filled with spontaneous brush strokes and have a sketchy street-art appearance. The subject matters are however largely personal, revolve around his family, his social environment, and an effort to capture the spirit of human survival in everyday life.
Dedy Sufriadi
Dedy Sufriadi has been very active in the Indonesian contemporary art scene, and has to date had over ten solo exhibitions, and has participated in numerous group exhibitions. Despite the growing success in his career, this artist has involved himself with many community projects and helps out young artists in his community. He is also a part of the Fighting Cocks art collective, an independent group aimed at the advancement of contemporary art in Indonesia, as well as a support group for young artists.
Naufal Abshar
Naufal Abshar is a promising young Indonesian artist, born in 1993 in Bandung. Trained at Lasalle College of the Arts and Goldsmith University of London, Naufal has participated in various group exhibitions in places as diverse as Singapore, Jogja, Venice, and Lithuania. In 2013, he won the first prize in the Indonesia Arts Festival live painting competition. With his "HAHA" series, Naufal explores the roots and boundaries of humor and laughter.
#THE S MEDIA
#Media Milenial