FASHION + WATCHES
MEET THE NEW MB&F : THE LM FLYINGT - IN MALACHITE
They should be part of your watch collection.
01.07.2021
BY STORTER BEL
The Legacy Machine FlyingT was our first-ever Machine dedicated to women–a first that was rewarded by a very warm welcome from the watchmaking world, including the prize for Best Ladies' Complication at the 2019 Grand Prix d'Horlogerie de Genève. The launch versions in 18k white gold were joined last year by limited editions in red gold and platinum, and then a Lapis Lazuli edition featuring a dial in the deep blue stone. At the time, we explained that this inaugurated a series of gemstone editions, which we would announce once a year.
Today, continuing on this fresh tradition, we announce the LM FlyingT Malachite, featuring a dial plate and subdial in the vibrant green gemstone in an 18k white gold case set with diamonds.
We love the natural lines you find in Malachite, varying randomly from light to dark green. As always with gemstones, it has associated virtues: good health, including protection from lightning! During the Middle Ages, it was apparently customary to wear it engraved with a figure of the Sun–just like the Sun-shaped winding rotor of the FlyingT.
Powering this new edition, the towering vertical structure of the FlyingT automatic movement, offering 100 hours of power reserve and topped by a 60-second flying tourbillon. The time is displayed on a tilted subdial placed at 7 o'clock, visible only to the wearer of the watch, underlining the personal nature of the LM FlyingT.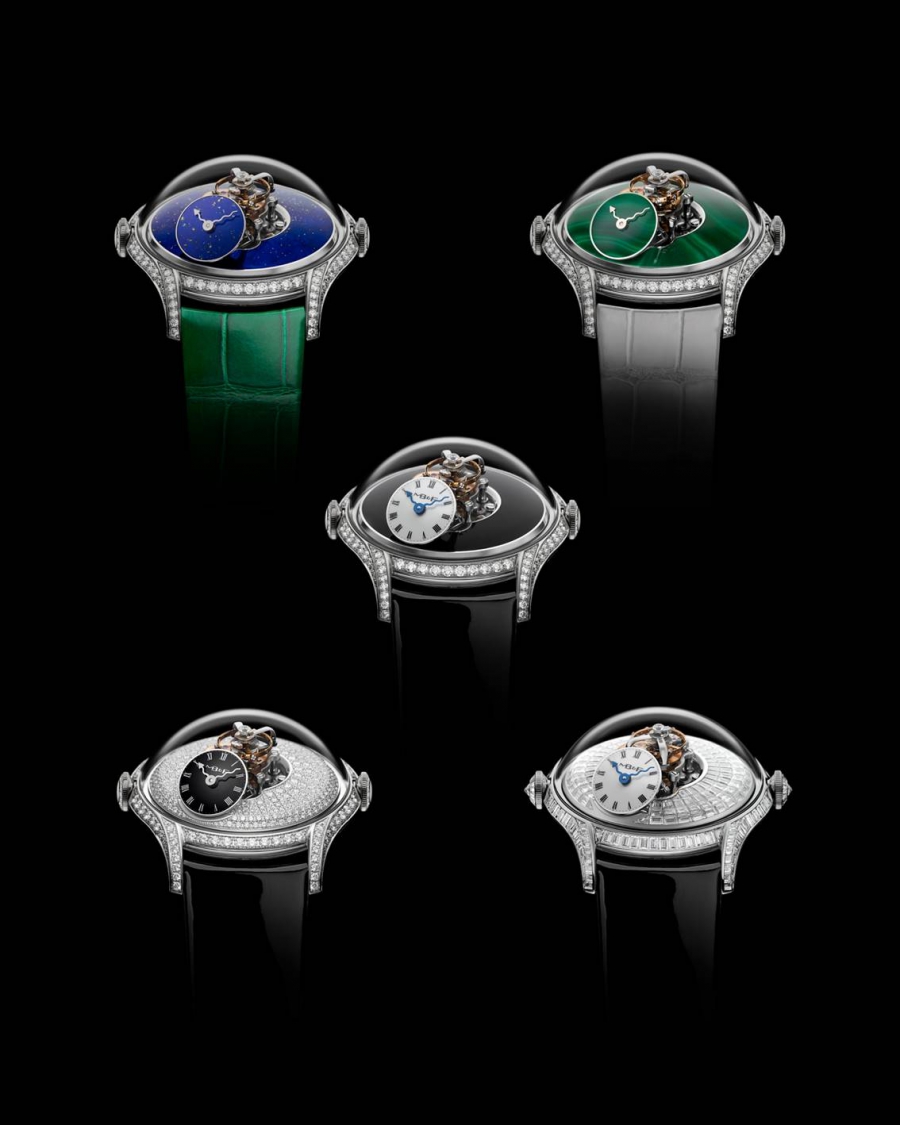 Previously, MB&F also launched MB&F: New LM101 editions. Right after releasing LM1 and LM2 in 2014, MB & F released their third Legacy Machine. They introduced LM101, a watch that focused on the essentials of mechanical watchmaking: the time, the power reserve, and – the real star of the show, the obsession of any watchmaker, the heartbeat of any mechanical watch – the escapement and balance wheel. But in true MB&F fashion, the "flying" balance wheel has become the signature of the Legacy Machine collection.
They also released the MB & F Jules Verne Edition. To completely convey every illustrated scene, Jaquet implemented a darkish rhodium alloy via means of hand, adjusting the shading of every element in line with the exigencies of the scene. The smoke of the hearthplace on the Michel Strogoff dial, for example, required an attenuated touch, even as the underground sea depicted on the Journey To The Centre Of The Earth dial integrated gradient-shading techniques. Between the remodel of some of the additives and the real execution of the engraved dial itself, over three hundred hours of extra labor have been required for every specific piece of the LM SE Eddy Jaquet Limited Edition.
#THE S MEDIA
#Media Milenial